August 4, 2007
Lou Malnati's
Chicago-style pizza isn't just one kind of pizza. From deep-dish to stuffed to pan to even thin crust, Chicago has its own way of creating this delicious "pie." But when most people think of Chicago pizza, they probably think of deep-dish, featuring a buttery crust and chunky tomato sauce.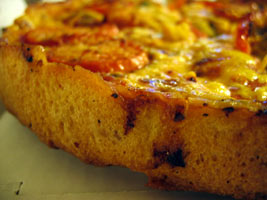 The Chicago-style deep-dish pizza was invented by chef Rudy Malnati at Pizzeria Uno in 1943. It begins with a thin layer of dough which is laid in a deep round pan and pulled up the sides. The dough is then partially baked and then lined with cheese, vegetables, and meats. Crushed tomatoes and sauce are poured on top, and the pizza is baked to completion. Deep-dish pizza is so thick and hearty, it must be eaten with a knife and fork, and it only takes one or two slices to fill you up.
Lou Malnati worked with his father Rudy at Pizzeria Uno and decided to open his own restaurant in 1971 in Lincolnwood, a northern suburb of Chicago. After being blessed with incredible success, he opened another pizzeria in Elk Grove, which nearly financially ruined him. He pressed on however, and now there are over 25 locations in the Chicagoland area.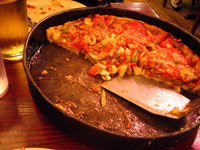 Along with some of the best deep-dish pizza money can buy, Lou Malnati's also serves up pan and thin-crust pizzas, along with a large selection of soups, salads, pastas, and sandwiches. For an appetizer, you have to have the stuffed spinach bread, a unique Malnati creation: a handmade loaf stuffed with a blend of cheeses, fresh spinach, and chunks of tomato. For folks who want to have Chicago-style pizza but have to follow a gluten-free or low-carb diet, Lou Malnati's offers a Crustless Pizza which looks, bakes, and tastes just like a regular deep-dish pizza. The "crust" is made from a lean, flavorful sausage. And if you're not in the mood for pizza, try the parmesan chicken sandwich or antipasto salad, voted one of Chicago's best. Finish everything off with the Chocolate Chip Pizza, a giant chocolate chip cookie prepared in a deep-dish pizza pan, topped with ice cream and whipped cream.
You don't even have to be in Chicago to enjoy Lou Malnati's deep-dish. The restaurant ships pizzas overnight to anywhere in the U.S. Just call 1-800-Lou-To-Go or visit Tastes of Chicago.
Photo credit: (c/o Flickr) justinhenry, dyobmit
Lou Malnati's ($): 6649 N Lincoln Ave (Lincolnwood); 847-673-0800
Mon - Thurs: 11:00 a.m. - 11:00 p.m.
Fri - Sat: 11:00 a.m - 12 midnight
Sun: 12 noon - 11:00 p.m.
Free parking lot
Public trans: Bus # 210
http://www.loumalnatis.com/