June 25, 2007
Navy Pier
It's impossible to talk about Chicago attractions without talking about Navy Pier. It's the place to go when you can think of absolutely nothing else to do. There's always something going on there.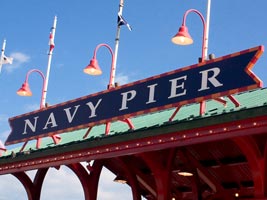 This 3,000-foot attraction on the shoreline of Lake Michigan was originally opened to the public in 1916. It was known as "Municipal Pier #2″ (#1 was never built), and it was both a shipping and entertainment area. And while it experienced a "golden era" of success, its popularity declined in the '30s, due to the introduction of cars, the opening of movie theatres, and the lack of shipping during the Depression. The Navy used the Pier during the '40s to train pilots, metalsmiths, and diesel engine technicians, and the University of Illinois transformed the facility into an undergraduate branch campus in the 1950s. Unfortunately, by the 1970s and '80s, Navy Pier became an abandoned, unused eyesore.
In 1989, the Metropolitan Pier and Exposition Authority took control of the pier and spent $200 million renovating and restoring it. Six years later, Navy Pier was reborn, featuring a mix of year-round entertainment, restaurants, exhibition facilities, shops, and attractions. The centerpiece attractions include:
the Chicago Children's Museum
the Smith Museum of Stained Glass Windows
the Chicago Shakespeare Theater, performing in the 510-seat Courtyard Theater
an IMAX theater
an 18-hole miniature golf course
the Skyline Stage, a 100-foot-high vaulted roof structure, used as a skating rink during winter and as a 1500-seat theater during summer
a 45-foot-high musical carousel with 36 hand-painted animals
a 150-foot-tall Ferris wheel, modeled after the first Ferris wheel built for the 1893 World's Fair
Navy Pier is also the starting point of many boat trips, from four-masted schooners to speed boats to romantic dinner cruises. (My high school senior class held a dinner-dance on one of these cruises.) There is also a large lawn in front of the pier showcasing many public art sculptures and an interactive dancing fountain. It's also a great place to watch the bi-weekly fireworks show, which is set to music and lasts about 10 minutes. (Wednesdays at 9:30 p.m. and Saturdays at 10:15 p.m.)
So no matter what you're in the mood for'or even if you're not sure what you're in the mood for'you'll find it at Navy Pier. Be sure to say hi to the statue of comedian Bob Newhart for me.
Photo credit: David Bjorgen (c/o Wikipedia) & joslynan (c/o Flickr)
Navy Pier: 600 E Grand Ave; 312-595-PIER (7437)
Summer (Friday before Memorial Day - Labor Day)
Sun - Thurs: 10:00 a.m. - 10:00 p.m.
Fri - Sat: 10:00 a.m. - 12 midnight
*Tues, July 3: 10:00 a.m. -12 midnight
Fall (Tuesday following Labor Day - October)
Sun - Thurs: 10:00 a.m. - 8:00 p.m.
Fri - Sat: 10:00 a.m. - 10:00 p.m.
Winter (November 1 - March 21)
Mon - Thurs: 10:00 a.m. - 8:00 p.m.
Fri - Sat: 10:00 a.m. - 10:00 p.m.
Sun: 10:00 a.m. - 7:00 p.m.
Spring (April 1 - Thursday before Memorial Day)
Sun - Thurs: 10:00 a.m. - 8:00 p.m.
Fri - Sat: 10:00 a.m. - 10:00 p.m.
Street parking difficult; pay lot and valet available
Public trans: Bus # 2, 29, 65, 66, 124 or free trolley service (between Navy Pier and State Street along Grand Ave and Illinois St)
http://www.navypier.com/