Chicago's Albany Park is one of the most diverse areas in the city, if not the entire country. About half of the population of the neighborhood is made up of foreign-born immigrants from Mexico, Guatemala, Korean, Yugoslavia, Somalia, and many, many more countries. 40 languages are spoken in Albany Park's schools and a walk down Lawrence Avenue is like a real world version of the World Showcase at Epcot – one second you could be getting Korean barbecue and the next you're getting tacos.
Chef Dudley Nieto (Barbakoa, Adobo Grill, Mezcalina) and his new restaurant Rojo Gusano are the perfect addition to such a diverse place. Born in Pueblo, Mexico, Nieto studied at the world-famous Le Cordon Bleu in France, traveled the world from Latin America to Asia, and worked in restaurants across Chicago and New York City. With Rojo Gusano, Nieto serves Mexican street food updated with world ingredients in a casual yet cool environment with very affordable prices.
Atmosphere
Rojo Gusano mixes tropical/beach and urban design influences to create an atmosphere that's fun and relaxing. On the bar side, there are surf boards and beach paintings while across the restaurant there's modern art and trendy photographs adorning warm brick walls. There are 70 metal seats pulled up to plain, wood tables similar to the wood floors below.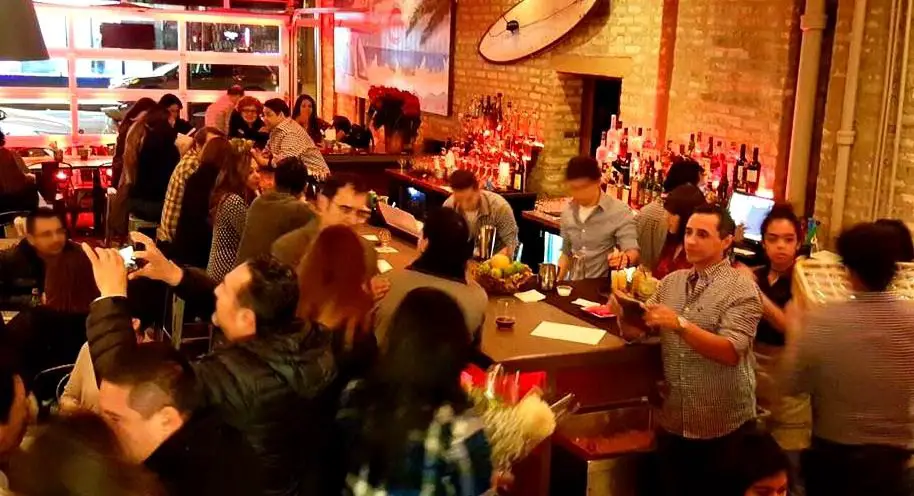 It's a casual, inviting space that's not stuffy, but also cool and hip enough to want to spend a late night or take a date. That's especially encouraged by Wednesday's weekly movie night where Rojo Gusano shows cult movies and provides free popcorn and off wine bottles.
Drinks
The minute I sat down at the bar, I was poured a shot of mezcal from a bottle with the customary worm floating around. Appropriate since the restaurant's name translates to "red worm," a reference to the insect larvae used to flavor mezcal (a close relative to tequila). I found the shot to be smooth and warming, without the bite of similarly clear vodka. If liquor flavored by insects isn't your thing, Rojo Gusano has a lot to offer from craft cocktails featuring fresh ingredients to local Latino-influenced beers, bourbon, and wines.
I tried a refreshing and complex cocktail with chipotle pepper, orange juice, tequila, and ginger beer that came across like a spicy Moscow mule. Meanwhile, my date sampled their "Coffee Delight Martini" with a rich, but not too heavy, coffee flavor that was very smooth and sweet with a cute look.
We were also invited to try some of the unique beers they had at the bar. I liked the look of Cerveceria Azteca's Chili Devil. A Satan-adorned bottle of lager flavored with spicy chili peppers and featuring an actual pepper swimming around, the beer is very light, but the spiciness will definitely make your mouth tingle.
Even better was the Yodo con Leche from Chicago's very own 5 Rabbit. An imperial porter that tastes close to a heavy stout, the thick, black beer mixes Costa Rican coffee with sweet milk caramel to create a balanced, complex beer. I got a little buzz after each sip, but the Chili Devil may have taken over my taste buds for the rest of the evening.
Food
Walking to Rojo Gusano I passed about a dozen old-school taquerias, and while Rojo Gusano also serves street food-influenced dishes, they have a few tricks up their sleeves. Chef Nieto's dishes are made with fresh, local, farm-to-table ingredients using influences gathered from his world travels. What's even better is the prices are really cheap. A very packed taco is only $2.50 ($2 on Taco Tuesdays).
I started with Rojo Gusano's Fiery Habanero guacamole served with jumbo-sized chips. The guac was the freshest I've ever had and came with a hot mango sauce that was a little sweet, but mostly on the spicy side. We also shared their sweet plantains that come topped with homemade crema and fresco cheese. A crispy exterior gave way to warm, sweet gooey goodness. Again, the plantains tasted incredibly fresh and are highly recommended.
Rojo Gusano has a lot of small plates, salads, and Asian-influenced rice bowls, but my eye was on the diverse selection of tacos. The tacos aren't huge, but full of ingredients. You get a price break if you get three and that was enough to fill me up.
A Tacate-beer battered fish taco was perfectly paired with a lighter cole slaw of red cabbage and radishes while the charred butternut squash taco had a nice fall-winter vibe and involved the first-time experience of eating kale on a taco. A mushroom-packed taco also hit the spot, but my money for best taco is the chorizo. House-made chorizo and hearty potatoes made up the bulk of the taco with crema and farmer's cheese. It was hearty and all sorts of incredible.
Bottom Line About Rojo Gusano
The bottom line here is simple: Rojo Gusano's food is incredible, and you should go there as soon as possible. Their food is remarkably fresh, full of interesting ingredients, and priced very affordably. Rojo Gusano is a much needed addition to Albany Park, as well as Chicago as a whole.
Leave a Review!
Average rating:
0 reviews