Our recent list of the best Chicago burgers was not without its share of controversy.
After its publication, I was told I had to go over immediately to Cochon Volant and try their Le Cheeseburger Royale. Translated as "Flying Pig," Cochon Volant recently opened in the Loop at 100 W. Monroe St. in a space attached to the Hyatt Centric. Featuring the cuisine of Chef Roland Liccioni (Les Nomades), Cochon Volant blends French and American influences— meaning this is a place where you can find both escargot and fried chicken wings in the hors d'oeuvres section.
General Atmosphere
Based on a Thursday lunch, Cochon Volant seems to have been thoroughly embraced by the business crowd (you may want to make a reservation). It's a very lively place to be, though the noise level never got way too ridiculous. The brasserie-style restaurant occupies an expansive 6000 square foot space with four main areas: a bakery/café, bar, dining room, and outdoor seating.
Walking into Cochon Volant, you immediately find yourself in the bar area, which is probably the most impressive part of the restaurant. I was first struck by this huge globe-holstering lighting fixture and then by the other fine details like the detailed tile mosaic, the rich woods, and the marble bar. Cochon Volant has a very nice, sophisticated style, but it's not stuffy either or ridiculously over the top.
Food
What helps to separate Cochon Volant from a lot of Loop spots is they offer full service for every meal of the day. They open early for breakfast at 6:30 a.m., so you can grab a pastry on the way to work or sit and relax a little bit; over the weekend, they switch to a brunch service.
But I was here for lunch and on a burger mission.
Le Cheeseburger Royale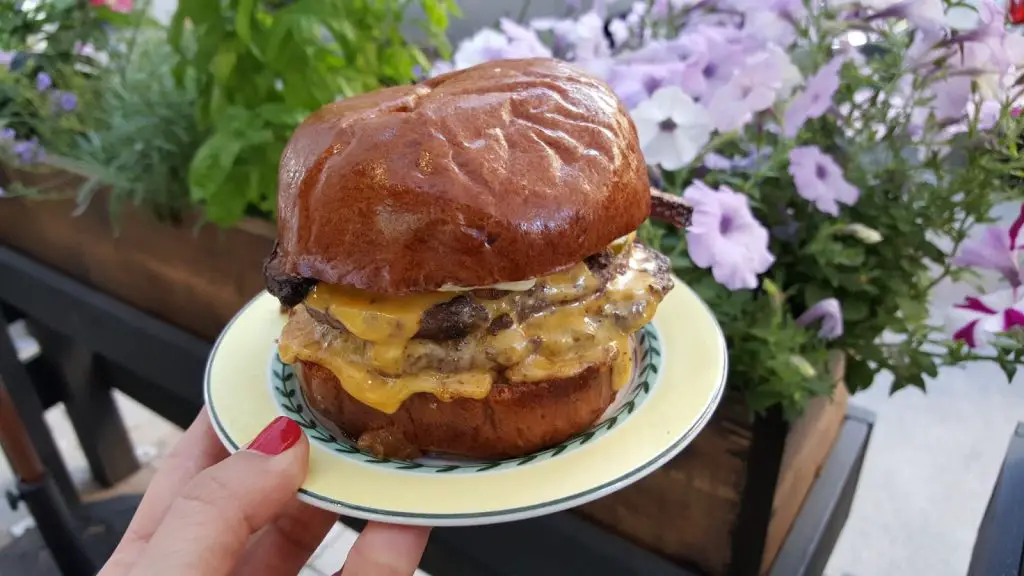 The Le Cheeseburger Royale is a substantial burger with two patties, thick bacon, lots of cheese, dijonnaise, onion, and pickles inside a flaky bun (the meat to bun ratio is spot on for those wondering). You're going to want to be very hungry to take on this bad boy. A side of crisp and well-seasoned fries is served as a side in a tin cup with a faux-newspaper lining I thought was a fun, unique touch. The whole thing is presented, like their other dishes, on a thin cutting board.
It's quite similar to the Au Cheval burger, which is a compliment. This type of multi-patty burger that's made a comeback in recent years provides a warm, nostalgic feeling of going with your parents or friends to the local burger shack with the flavors and ingredients updated for an older palette.
A prime difference between the Cochon Volant burger and the Au Cheval's isn't as gooey and messy. You're going to be able to sink your teeth into the tender patties without your hands getting covered in grease and cheese. Plus, you don't need to wait two hours just to have a burger.
Poulet
I was also able to try their juicy rotisserie chicken, served in a cast iron pan. The lemon chicken is incredibly tender, meat falling off the bone, with shaved truffles on top (you may have to ask for the truffles as an extra) and fries as the side. Chicken is generally my meat of choice, and I was very pleased.
Pavlova
All of Cochon Volant's pastries are prepared in house, including their Pavlova. A meringue-like dessert popular in New Zealand and Australia, the Pavlova has a crunchy exterior that gives away to all sorts of gooey goodness. Their take on Pavlova featured lots of whipped cream and a raspberry and nougat topping. While not an overly large portion, this is a very sweet dessert that would best to share between a few people.
Bottom Line
Located right smack downtown at Monroe and Clark, Cochon Volant should be on the radar of every Loop office worker thanks to its blend of French and casual American cuisine and three-meal service. And anyone coming from the suburbs or hanging downtown on the weekend is going to love having an option apart from the Magnificent Mile that's actually open.
Cochon Volant
100 W Monroe St, Chicago, IL 60603
(312) 236-1234
Average rating:
0 reviews