I found myself wandering the streets of Chicago one evening. I was aimlessly walking around snapping photos when the slight growl of my stomach made me realize that I had yet to eat anything that day. I made a couple phone calls to get recommendations from friends, with a handful in mind, I decided to walk to each one until one had an atmosphere and menu that'd pull me in. With three places down and my stomach nor eyes feeling compelled to experience any further, I randomly caught the cool glow of theDavanti Enoteca sign across the street (on East Hubbard). It wasn't on the list, but there was something intriguing about it. The name had rung a bell many of times, but I had only experienced it through 2nd hand accounts. I reluctantly tossed my friends' recommendations aside for another day, and I'm not mad about that decision.
Atmosphere of Davanti Enoteca
dining room of Davanti Enoteca
I stepped in just as they opened, which was perfect to capture photos of their beautiful dining room. There are a lot of little details that go into creating the harmonious atmosphere here. The extensive use of reclaimed wood and warm lighting evokes a romantic atmosphere. I went in alone and I still felt worthy of a candlelit dinner, and I was completely comfortable with that.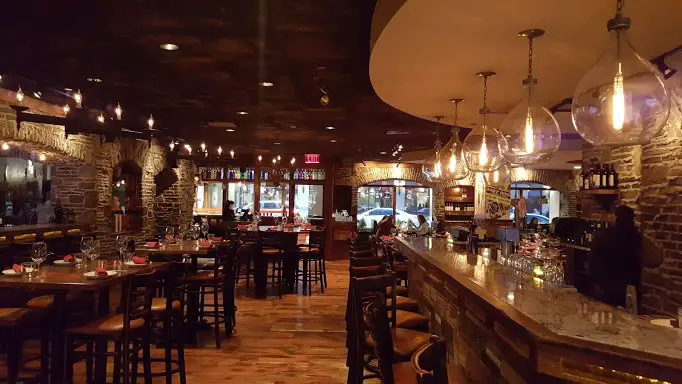 I posted up at the bar for my meal with a few other people filtering in throughout the experience. The bartender was very inviting and we had a solid conversation about snowboarding, mountains and Colorado. Every now and then it's essential to talk about nature when immersed within the city.
Food & Drink
I kicked my night off with a Green Line Pale Ale, which I happily found out that is was happy hour (Monday – Friday, 3pm-6pm) that means that my beer was on $3 and many of the appetizers were a mere $6.
I started off with the Truffle Egg Toast, which I must urge you to visit Davanti Enoteca for this dish alone. I like food and I can be satisfied enough somewhat easily, but this dish is what dreams are made of. I'm serious, I've had at least a dozen dreams about this toast since visiting and waking up from it is like a nightmare. They used Pullman Bread, which is crunchy on the outside but incredibly soft and fluffy on the inside. I wanted an entire loaf. It is topped with truffle oil (I went and bought a bottle for my kitchen after this), Fontina cheese and two ridiculously yolky eggs. Underneath it is tender asparagus, which is a very welcome addition to the yolk and truffle oil. I actually scraped the plate completely clean, it would have been a crime against humanity to leave anything behind.
PLEASE, EXPERIENCE THIS FOR YOURSELF.
For my entree I order the papardelle alla cinghiale. Admittingly, I had to point at it on the menu since I didn't know where to start the pronunciation when I ordered. The brasied boar with pistachio is what sealed the deal for me. The portion was much larger than what it appears in the photos, the utensils are quite large and the noodles are buried deep.
The boar was very tender, think authentic pulled pork tender. The seasoning was super balanced and brought out the true flavor of the boar, which is essentially pork if you are apprehensive. The house-made pasta ribbons were very wide and rolled out to have some thickness to them, rather than paper-thin. They were cooked Al dente, where the slight firmness of the noodle complimented the tenderness of the boar in a wonderful way.
I almost cringed when the bartender asked if I would like to look at the dessert menu. I can only imagine how satisfying their desserts are, and I have somewhat of a huge sweet-tooth. However, I was already in a state of euphoria and the two dishes I indulged in had nearly immobilized me and my tastebuds.
I settled for a shot of Fernet Campari for dessert to help breakdown the food, she agreed that it was a wise decision.
Overall Thoughts
Davanti Enoteca isat the top of my listwhen someone asks where they should go for quality Italian cuisine in Chicago. The atmosphere is spot on, the service is fantastic and in my experience, the friendly service definitely added to the visit. It's a testament to the restaurant when I can arrive solo, yet leave feeling like I had dinner that included great conversation. Even the rest of the team running the restaurant seemed to be in good spirits whenever I saw them.
The menu is well-rounded with Italian dishes that are traditional and innovative. The cocktail and wine lists are extensive and the satisfaction stemming from each bite was nearly unparalleled to any other Italian cuisine that I've experienced.
Well done, Davanti Enoteca.
Davanti Enoteca
30 E Hubbard St, Chicago, IL 60611
Leave a Review!
Average rating:
0 reviews