October 17, 2007
Urban Shop Guide
Fall is here, and you're going around town still wearing last year's fashions. Shame on you! The temperatures are starting to dip, so why not treat yourself to a new jacket… and maybe a new outfit to go with that jacket… and maybe some new shoes for that outfit… and you can't forget the accessories… Obviously, this is a shopping trip that is going to require a few stops and some sage advice.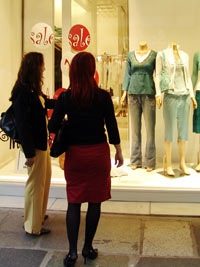 It's time to call up some pals, including the Urban Shop Guide. They'll take you on a tour through some of Chicago's lively neighborhoods, visiting chic boutiques and discovering fashion in places you'd never think to look. Meet up with a friendly guide at a pre-determined time and location, or arrange for a pick-up and drop-off at convenient downtown locations in a chauffeured luxury vehicle. Your guide will point out all the great stores, designers, and restaurants in the area. In-store stylists will recommend unique fashions, and you'll be blessed with discounts and special offers.
In case their scheduled times don't work for you or if you have a private group that wants to celebrate a special occasion, Urban Shop Guide can set up a private tour. The itinerary can be customized to celebrate a new bride, a new baby, or even a new home. Tours are available year-round, rain or shine, so you can get together with friends or visiting out-of-towners any time, special occasion or not.
A few stops… a few shops… and no more fashion flops.
Photo credit: (c/o SXC) roberto tostes
For more info, call 312-533-1256 or visit www.theurbanshopguide.com