The idea of going to a Wrigleyville bar could either be the greatest or worst thing every depending on who you are. If that is your scene, there's certainly no shortage of places to choose from to watch the game, grab some lunch, or have a boozy weekend. Located just a couple blocks from Wrigley Field, the Stretch has managed to stand out from the crowd with its award-winning burgers.
General Atmosphere
The Stretch is a sports bar that occupies the middle ground between dive bar and upscale cocktail lounge. Besides the obvious baseball connotations, the name is an apt description for the space, which is narrow by the bar in front, but keeps on going into a larger, open space in the back. The wood and brick walls gave the place a warm and inviting feeling and seemed reminiscent of a Wisconsin cabin.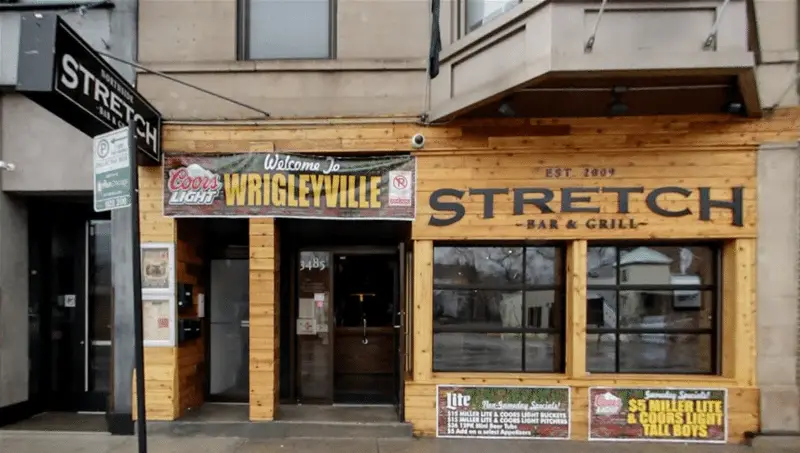 This is definitely a place where you go to watch sports, but it's not obnoxious either and a little trendy even. The huge flat screen televisions were limited to select areas and not squeezed into every possible space. There's sports memorabilia on the wall—mainly pictures of notables during the seventh inning stretch—that's tastefully framed and sparsely spaced so you won't feel like you're in a TGI Friday's.
The Stretch was fairly low key when I was there with just a few people calmly watching college basketball. I've read this place does get rowdier during big games and at night, so maybe plan ahead according to preference. They let you reserve tables for games, which is definitely a plus. Also it should be mentioned this is a Michigan State bar if that means anything to you. Being a sports bar, it has seen many things. Rumor has it– a woman had 31 shots on her birthday and a guy had 80 ounces of "Everclear Apple Cider" on the Rocks.
Service
My waitress at the Stretch was very friendly and came around frequently to check how I was doing and refill my water. There wasn't a big wait for food, either. No complaints when it comes to service.
The Food
The Stretch has a full menu of appetizers, salads & wraps, and sandwiches, but what they've become increasingly known for is their burgers. Since they opened in 2009, the Stretch has picked up awards at Burger Fest and was featured on a Chicago Magazine best Chicago burger list.
All of the burgers sounded incredible on the menu. I went with the award-winning Cortland Street, a massive burger topped with avocado, bacon, crispy onion strings, white cheddar, lettuce, and probably a dozen other things I'm forgetting. Biting in, I was rewarded with a cornucopia of flavors with the crunch of the onion strings and bacon, the char-grilled taste of the burger, and the creamy avocado all coming together for a truly solid burger experience.
Despite being a complicated sandwich, I was very impressed with how clean the burger was. Everything stayed together and I didn't have to eat with toppings all over my hands. It was greasy either; even though it was huge, I didn't feel like I had to pass out either.
Bottom Line
If I lived in the Wrigleyville/Roscoe Village/Lakeview area, I could definitely see the Stretch being a regular lunch/dinner hangout when I was craving a burger. It doesn't quite reach the mouth watering peaks of personal favorite Kuma's Corner, but definitely puts most burgers to shame. The Stretch is well worth checking out for sports and burger fans alike.
The Stretch Bar & Grill
3485 North Clark Street, Chicago, IL 60657
(773) 755-3980
Average rating:
0 reviews