Chicago has been taken over by a fever for Japanese ramen noodles. Within walking distance from my apartment alone, I can think of four places I could go for noodles. Jakarta, Indonesia-based Imperial Lamian, a restaurant group with more than 20 locations, picked Chicago's ramen-centric food scene as an opportunity to bring their brand of authentic Chinese food to the United States. Compared to the two coasts, Imperial Lamian saw a healthy desire for high-quality Asian cuisine without much in the way of competition in Chicago—making our city a great spot to build a reputation in America.
We were invited to a lively pre-opening party to try out some of the dishes and get a feel for the new River North restaurant.
Atmosphere
Walking into Imperial Lamian is visually striking. Right at the entrance, you're surrounded by a gorgeous array of hanging Chinese screens and birdcage-lighting. Throughout the restaurant's bar, dining room, and two private rooms, you'll find rich woods, beautiful tiling, and industrial elements working together to create something that mixes traditional and modern urban design. It's a huge space, but feels classy and inviting. There's none of the kitsch you might find in your neighborhood Americanized Chinese restaurant.
Though the majority of the tables had been removed for mingling space, it was clear that eating at Imperial Lamian will be an entertaining experience thanks to an open kitchen taking a prominent space in the dining room. During the party, I stood by the kitchen entranced, watching a man twist, stretch, and thwack massive dough into thin noodle strands. Even more entertaining was a Chinese dragon that snaked around the restaurant, though don't expect this to be a regular occurrence.
Drinks
Not knowing anyone at the pre-opening party and generally being socially awkward, I headed straight for the Imperial Lamian bar to find a well-crafted collection of beers and cocktails. I started with a Thousand Mile Journey (Knob Creek Rye, Jim Beam Apple, Domaine de Canton, and Yuzu), which had a refreshing, crisp citrus taste.
Next, I sampled the Garden of Good (Ketel One, French Field Rooibos, Giffard Orgeat). The very fruity drink had a beautiful presentation with a flower floating on top. Before heading back out, I grabbed a Lucky Buddha beer. Brewed and bottled in China, the Asian-style lager tastes like a Heineken, but has this very fun bottle shaped like the "laughing Buddha."
Food
In between drinks, I spent time chasing around servers carrying bites high above their heads, stopping at random points across the restaurants to lower their trays as food bloggers, restaurant critics, and important people swooped in. It's safe to say the food was very popular that night.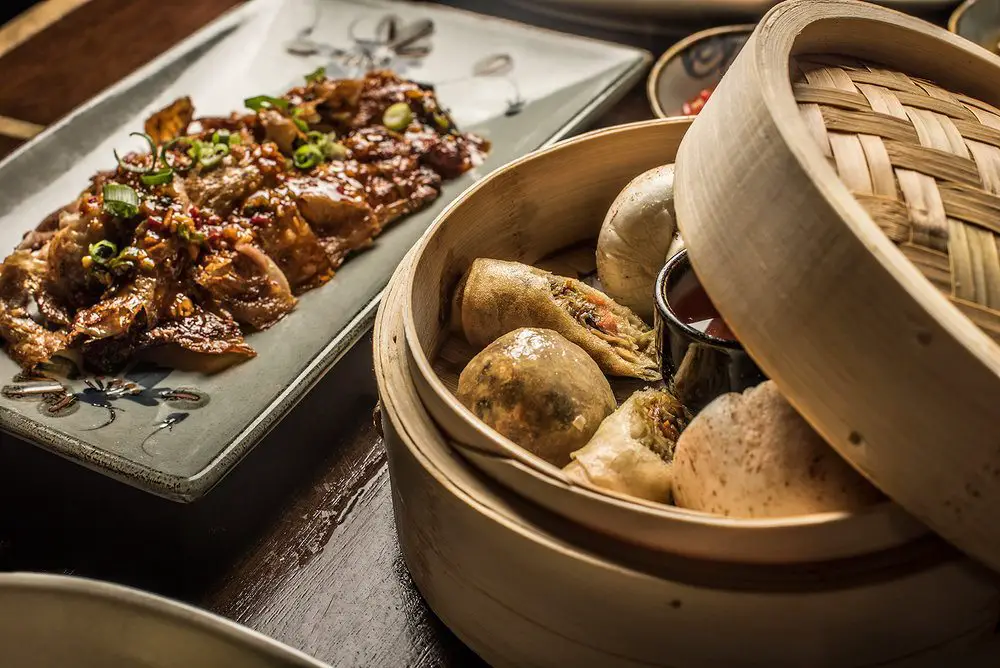 The dinner menu at Imperial Lamian is incredibly extensive and offering a little something for every taste presented pristinely. There are noodles, dim sum, BBQ, fried rice, wok dishes, and that's just the tip of the iceberg. While the restaurant focuses on authenticity, many entrees will be familiar to Chicago diners like Mongolian beef or sweet and sour pork.
However for every crisp spring roll, there was something unique like a fried lotus chip, shrimp served in a peanut sauce, or juicy pork wrapped in a thinly-sliced cucumber. What stood out the most for me were xiao long baos. These are dumplings handmade with different color dough and filled with meat and hot soup. A waiter told me these are supposed to be pierced then slurped up with the soup. That didn't really work out in the sample-size dish I was given, but eating one whole was a blast of rich flavor. I was reminded of the thrill of eating a gusher as a kid, but updated for a savory adult palette.
Bottom Line
You may think you know Chinese, but Imperial Lamian may surprise you. Imperial Lamian showcases authentic Chinese cuisine that's impeccably prepared, flavorful, and presented in a gorgeous restaurant. Based on what I saw and sampled at their pre-opening party, River North's newest Asian restaurant is off to a great start.
Imperial Lamian
6 W Hubbard St, Chicago, IL 60654
(312) 595-9440
Average rating:
0 reviews