Nothing combats the cold bite of a winter wind better than huddling around a fireplace. Fortunately, there are a plethora of bars and restaurants with fireplaces Chicago warms up at. These venues range from very upscale eateries and lounges, to very laid back bars that serve impeccable cocktails and beer to warm your insides. There is no need to hibernate this winter, just venture out to places that are warmer than your home.
Bars and Restaurants With Fireplaces Chicago:
404 WINE BAR
2852 N Southport Ave, Chicago, IL 60657
(773) 404-8400
404 Wine Bar has an extensive wine menu that will suite any'connoisseur. To compliment the tastings, they serve up a selection of small plates and cheeses. This cozy venue is the perfect place to escape the chilly weather.
ALLIUM
120 E Delaware Pl, Chicago, IL 60611
(312) 799-4900
Allium is classy, comfortable, and serves up some pretty amazing cocktails. For an upscale night out with gourmet food and a warm fireplace, look no further.
BAR AT PENINSULA HOTEL
108 E Superior St, Chicago, IL 60611
(312) 573-6766
This venue has one of the best fireplaces in Chicago. A great view, comfortable lighting, spacious, and just all around elegant. 'Bar at Peninsula Hotel serves up some creative cocktails and delectable dishes.
CANTINA LAREDO
508 N State St, Chicago, IL 60654
(312) 955-0014
Cantina Laredo is known for one thing over everything else' guacamole. Their guac is made fresh table-side. Compliment it with sangria or a margarita for a perfect evening out.
DRUMBAR
201 E Delaware Pl, Chicago, IL 60611
(312) 933-4805
Drumbar is a step back into the time when speakeasys were on every block. This elegant atmosphere is made up of leather couches and dark mahogany. All that is missing are leather bound books' wait, I see some. Their cocktails are top-notch.
ENO WINE BAR
505 N Michigan Ave, Chicago, IL 60611
(312) 944-4100
Not much compliments a toasty fireplace better than sipping on a glass of wine and indulging in some fancy cheese. I do this at home, so it is nice to change up the atmosphere sometimes.
THE GAGE
24 S Michigan Ave, Chicago, IL 60603
(312) 372-4243
The Gage is one of the fanciest pubs around. For fish & chips, venison burger, or even poutine taken to an entirely new level' The Gage will surpass your expectations.
HOPLEAF
5148 N Clark St, Chicago, IL 60640
(773) 334-9851
Hopleaf is great place to wind down after work, or to kickstart'your night on the town. 'Nothing adds to the experience of warming up to their fireplace like drinking down dark Belgian beer while slurping down some mussels.
They are one of the few in Chicago that utilize actual wood over a gas fireplace. It is hard to beat that smell.
MRS MURPHY AND SONS IRISH BISTRO
3905 N Lincoln Ave, Chicago, IL 60613
(773) 248-3905
This restaurant feels like it is the product of a mother and sons. It is very welcoming and homey. This contemporary Irish dining venue provides all of the essentials for a great night out' food, beer, and fire. Five dining rooms and two bars makes this one of the most well equipped restaurants with fireplaces Chicago can escape to.
NORTH POND
2610 N Cannon Dr, Chicago, IL 60614
(773) 477-5845
North Pond is situated at pond's edge in Lincoln Park. The view provides the skyline emerging from the tree tops. Their menu items are paired with wine if you so choose. They took the time to match them up perfectly. The Chef's tasting menu is a great way to try many exceptional seasonal dishes.
OLD TOWN SOCIAL
455 W North Ave, Chicago, IL 60610
(312) 266-2277
One of the reason I love Old Town Social is for the fact that they are known as a'Sophisticated Sports Parlour. It is not a lie at all. This fancy sports bar has enough tvs for everyone, a healthy fireplace, some amazing'charcuterie and duck wings.
QUINCE
1625 Hinman Ave #102, Evanston, IL 60201
(847) 570-8400
You will find yourself feeling right at home when you walk into Quince. The atmosphere almost feels familiar, however, if your kitchen was producing food as phenomenal as theirs you would have no reason to leave the house. For an intimate night out, they will be more than happy to serve you.
RANGE
1119 W Webster Ave, Chicago, IL 60614
(773) 549-5747
The Range is one of Chicago's premier'farm-to-table restaurants. This assures that the ingredients are some of the freshest around' plus, it supports the producers. The venue is elegant and the attention to detail is surpassed by none.
RM CHAMPAGNE SALON
116 N Green St, Chicago, IL 60607
(312) 243-1199
Not many places specialize in champagne,'R'coltant-Manipulant at that. That may be because RM Champagne Salon has essentially perfected this genre. Their drinks offering is extensive, and they serve up food as well if you are craving more than just bubbles.
ROOF ON THE WIT
201 N State St, Chicago, IL 60601
(312) 239-9502
Do not let the name deter you from venturing up here in the winter' they have a retractable roof that keeps in the heat from the fireplace. This modern lounge provides a fantastic, relaxing view of the city' which is complimented by quality drinks to help set the mood.
SCOFFLAW
3201 W Armitage Ave, Chicago, IL 60647
(773) 252-9700
Scofflaw is one of my favorite bars in Chicagoland. This is the place that got me to appreciate gin' which is what they specialize in. Their large fireplace enhances the atmosphere immensely. Half-bar atmosphere, half-victorian age drink hall' this place will definitely do for drinks.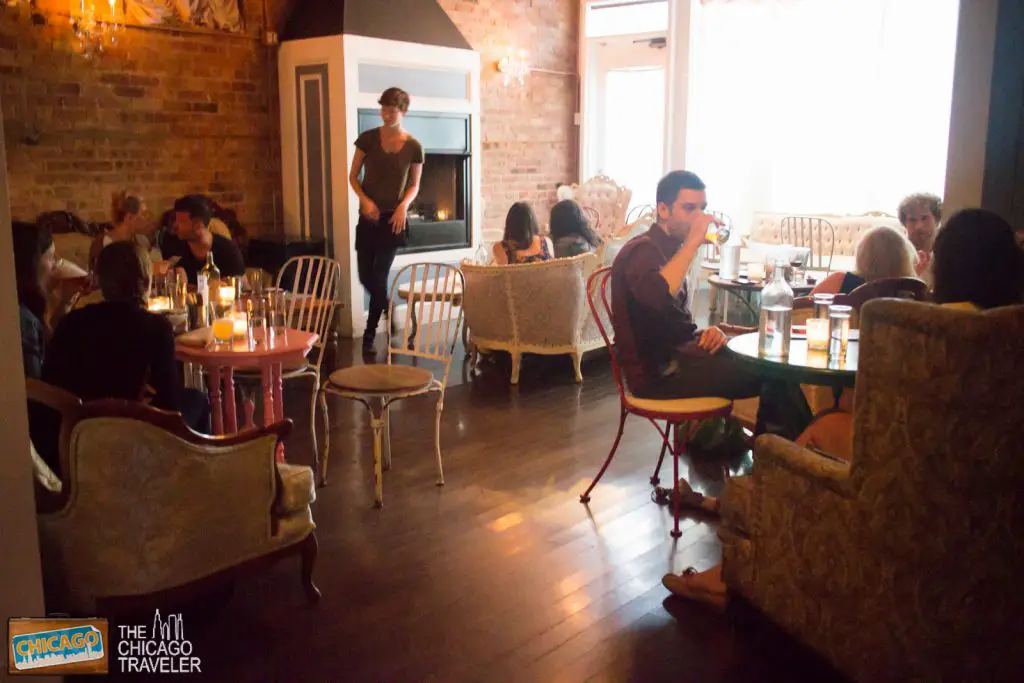 SHEFFIELD'S
3258 N Sheffield Ave, Chicago, IL 60657
(773) 281-4989
Sheffield's is the stop on cold days. Not much warms you up more than indulging in mass amounts of smoked meat and craft beer' which is continuously rotating. Their Beer School just further solidifies that this is one of the best restaurants with fireplaces Chicago flocks to.
TORTOISE CLUB
350 N State St, Chicago, IL 60654
(312) 755-1700
Tortoise Club provides an intimate, upscale dining experience in downtown Chicago. A whiskey sour near the fireplace hits the spot every time. The old-school feel evokes you to sip on classic cocktails. Their pheasant pie is not to be overlooked either.
UNCOMMON GROUND
3800 N Clark St, Chicago, IL 60613
(773) 929-3680
Uncommon Ground is a brick laden bar and restaurant that never fails. Their menu is packed with fantastic food choices' vegetarians will find themselves right at home here. A toasty fireplace, sweet potato fries, and a refreshing brew will tidy up the night quite well. You may even be able to catch some live music.
THE VIOLET HOUR
1520 N Damen Ave, Chicago, IL 60622
(773) 252-1500
The Violet Hour is nothing short of elegant. Not just in appearance, but overall atmosphere. They want you to look dapper and be polite' that means no baseball caps or cell phone use. After an experience of gourmet dining and cocktails here, you may never want to eat any other way again.
WILDE BAR & RESTAURANT
3130 N Broadway, Chicago, IL 60657
(773) 244-0404
Wilde Bar & Restaurant takes Irish Pub and transforms it into something worth dressing up for. They serve up all of the standard necessities for a pub' just better. Their'library area contains the fireplace, leather seating, and of course books for the final touch.
ZED451
739 N Clark St, Chicago, IL 60654
(312) 266-6691
Zed451 is a must stop while exploring Chicago. This upscale dining experience is a combination of fancy and comfortable. The Harvest Table (salad and charcuterie table)'is a great way to spend an evening with drinks and food among friends.