Wine is good, beer is even better, but sometimes nothing quite does it like a quality crafted cocktail. Fortunately, there are plenty of fantastic cocktail bars Chicago can choose from. Chicago is equipped with venues of ultimate sophistication and class, to dive bars that hold their own, and everything in between. There are a handful of more fantastic options to hit up in the city, but these are essential. We have covered one atmosphere to the far other spectrum, one thing that they all have in common they satisfy your palette like no other.
Cocktail Bars Chicago:
Scofflaw – $$
Scofflaw cocktail bars chicagoScofflaw is a trip in a great way. Half of the venue is done up in your traditional brew-style wood and brick. The other half will almost make you feel like you should be eating crumpets and drinking tea with the Queen of England. Fortunately, they replace tea with liquor and crumpets with superb food. They focus heavily on gin, but are well equipped with other forms of alcohol. I was not even a gin drinker, but this place changed my palette for the better. Their drink menu is ridiculously impressive.
Logan Square
3201 W Armitage Ave
Chicago, IL 60647
(773) 252-9700
Three Dots and a Dash – $$
Three Dots and a Dash aims to bring the tropics to Chicago, with a dash of class. It all begins as you wander through the 'secret' alley entry that is littered with neon-lights and skulls. The friendly atmosphere is complimented by the funky variations of mugs, goblets, and shells that the drinks find themselves in. They are a tiki bar that goes beyond what you would expect from the traditional. Rather than just throwing some rum in some sugar, they actually mix-up high quality concoctions. It all tastes fresh, and plenty strong.
Near North Side
435 N Clark St
Chicago, IL 60654
(312) 610-4220
Joie De Vine – $$
Joie De Vine has an unique approach when it comes to cocktails. Their cocktail menu is nonexistent. The bartenders simply ask you a couple preference questions and something sparks in their master-craft mind to pour you the perfect drink. They go above and beyond to assure satisfaction. They also pride themselves as a wine bar, which gives it a nice variety. If you know that you want to drink, but cannot decide on what, let Joie De Vine's craftsmen & craftladies decide for you they do not disappoint.
Andersonville, Edgewater
1744 W Balmoral Ave
Chicago, IL 60640
(773) 989-6846
The Drawing Room – $$$
The Drawing Room is a haven of sophistication. This lounge gives you the sense of elevation their drinks and food are just as classy as their surroundings. Their bar is well equipped with some of the finest liquor around. Their specialty cocktail menu is well-rounded to please many palettes, but if nothing suits your fancy, then one of the bartenders would be more than happy to custom mix a drink to your preference. This stop is perfect for a classy night with friends, if you have more than a liquid appetite their food is top notch.
Near North Side
937 N Rush St
Chicago, IL 60611
(312) 266-2694
Barrelhouse Flat – $$
The Barrelhouse Flat is a very attractive venue. It evokes the atmosphere of a speakeasy, while remaining very friendly. The upstairs section is prime real estate if you can snag a spot. Their cocktails are creative, strong, and mixed to perfection. The dimly lit rooms allows for intimate nights for groups of friends or dates. It is easy to converse, and you can even snag a pool table in their dedicated game room.
Lincoln Park, DePaul
2624 N Lincoln Ave
Chicago, IL 60614
(773) 857-0421
Billy Sunday – $$
Billy Sunday is a Logan Square cocktail gem. Instantly, the modern speakeasy vibe inspires you to order a stiff drink. Their extensive cocktail list is impressive, no matter how many times that I look over it. They have a few standard cocktails listed, but their house creations are worth venturing out of your comfort zone for. Their tonic mixes are worth trying as their tonic is made in house and to a level that is above almost any other that I have experienced. The bartenders only further the experience, to turn a good night into a great night.
Logan Square
3143 W Logan Blvd
Chicago, IL 60647
(773) 661-2485
Weegee's Lounge – $$
Weegee's Lounge is set away from the ridiculousness of downtown, and evokes its own atmosphere. Weegee's is the place to meet-up with friends, grab some fantastic classic cocktails, play some games of shuffleboard, and jump in there photobooth to make a fool of yourself and have evidence of it. They pride themselves on their establishment, and it shows. The bartenders are more than helpful and the perfect level of friendly. For a chill night out with your best buds, stumble into Weegee's Lounge.
Logan Square
3659 W Armitage Ave
Chicago, IL 60647
(773) 384-0707
Untitled – $$$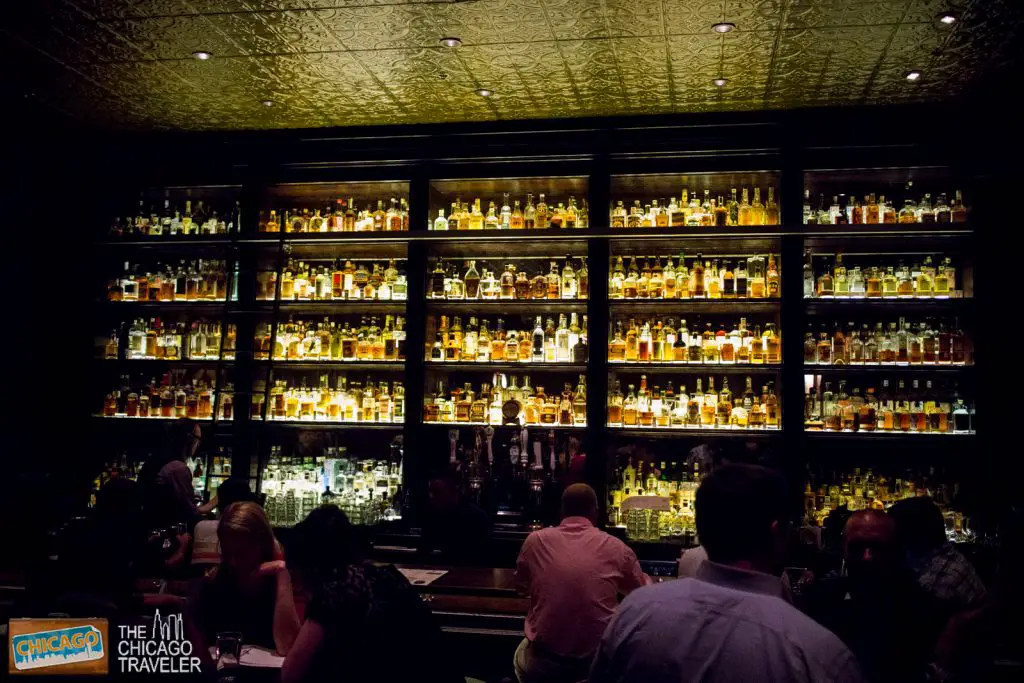 Untitled makes you feel as if Capone might take a seat next to you, and order whatever you are drinking. This sophisticated, relaxing atmosphere sets the mood for stiff drinks and hearty conversation. They are primarily a whiskey bar, which is very apparent by the massive wall of whiskey that towers above the bar. A classic style library ladder rolls across the collection to allow for visual entertainment, and quick swiping of the bottles touching the ceiling. Untitled boasts the largest array of American whiskey in the world. As a whole, they have over 400 whiskies to sip on, as well as other spirits. The bartenders are an encyclopedia of whiskey knowledge. Come here on the right night and indulged in live music with your mix and food.
Near North Side, River North
111 W Kinzie St
Chicago, IL 60654
(312) 880-1511
The Whistler – $$
The Whistler is a workhorse of a venue, and business in general. On top of mixing up some of the best cocktails in the city they are a gallery, record label, and venue that brings in DJs and live music. This alone tells you something about the owners and atmosphere in general. It is artsy all around, including their drinks. Their cocktail menu is ever-rotating, and is compiled of classic and original drinks to keep things interesting. People attribute this venue with a Hipster vibe. If live music, laid back and friendly bartenders, and killer drinks means hipster then so be it. Labels are meant for their drinks anyways.
Logan Square
2421 N Milwaukee Ave
Chicago, IL 60647
(773) 227-3530
The Violet Hour – $$$
The Violet Hour is made up of dim lights and cozy quarters. This intimate date spot is not just gorgeous, but loaded with highly-skilled chefs and bartenders. Elegance does not cease at their decor, their cocktails please your eyes just as much as your palette. Their cocktail menu covers specialties in every variety of liquor out there. Their mixes allow you to taste each and every ingredient separately in every sip. Sophistication has reached a new level.
Wicker Park
1520 N Damen Ave
Chicago, IL 60622
(773) 252-1500
Punch House – $$
It has probably been said a thousand times, but Punch House's atmosphere feels like you are lounging around, drinking in your grandma's basement. Maybe your grandma inspired it? With an interior vibe that leans towards a 70's lounge the snow cone machine and fish tank just solidify it Punch House is a very relaxing place to grab some gourmet cocktails. Punch House is not just a random name they specialize in punch mixes. They have nailed each and every one of them. They do serve other quality mixes as well, but I recommend coming here to get punched and reminisce about the 70's even if you were not born yet.
Pilsen
1227 W 18th St.
Chicago, IL 60608
(312) 526-3851
The Matchbox – $$
The Matchbox is a curious venue. Taking up only 460 square feet they pack some of the most vigorous cocktails in the city. This place has been around for over 75 years it may be small in size, but large in history. I do recommend arriving early for the fact that seating is limited, fortunately there is an outdoor patio that you can flow out to. The cocktails here are always spot on though. You will appreciate the bartenders as soon as you order, but once you take that first drink of the mix that they created for you appreciation may escalate to the borderlines of love.
River West, Noble Square
770 N Milwaukee Ave
Chicago, IL 60642
(312) 666-9292
Ada Street – $$$
Ada Street is a phenomenal place to stop after a long day of work, or fun. The atmosphere evokes relaxation not due to plush couches nor Sinatra serenading, but because it is modernly comfortable. It seems like everyone that is in Ada Street is happier than before they walked in. Their cocktail menu makes it so you would not want to order anything else although they do have beer and wine. Their outdoor seating area has an astroturf base with a ping pong table to accent it perfectly. For a fun night out with great cocktails, and a superb atmosphere Ada Street nails it.
Noble Square
1664 N Ada St
Chicago, IL 60642
(773) 697-7069
Average rating:
0 reviews