Traveling to Chicago is quite an experience. Chicago tourist attractions are spread throughout the city, but many of the main ones are found right in the downtown area and along the waterfront. We may have lists already covering some of the best places to visit in all of Chicagoland, but if you want the tourism side of it– then this is the list for you. There is nothing wrong with not straying too far off of the path when exploring; these attractions are crazy popular for a reason after-all.
Top Chicago Tourist Attractions :
Sports :
Chicago sports play a huge part in both the city and the tourism aspect. With football, baseball, basketball and hockey being given the most attention, there are four essential stops to take all of them in.
Wrigleyville is home to Wrigley Stadium. This neighborhood embraces the Cubs like no other. The bars here are fantastic and the partying tends to get pretty rowdy.. and crowded.
U.S. Cellular Field is the stomping ground of the Chicago White Sox. This stadium is found to the South of downtown Chicago. White Sox fans seem to get a lot of grief, especially from the Cubs' patrons, but their loyalty is as strong as ever.
Soldier Field is where the football fanatics take over on game day for Da Bears. This has a phenomenal placement in the South Loop area. There is plenty of entertainment in the area or just hang out by the water for awhile.
United Center is a workhorse of a venue. This is where all of the major concerts call home while in Chicago, but to sports fans– this is where the Chicago Bulls and the Chicago Blackhawks call home and do battle.
Find out where you can bet on your favorite Chicago sports teams at USACasinoBonusCode.com.
Shopping :
Chicago is actually full of amazing boutiques that provide a great variety of options if you are willing to explore; however, a large portion of sales are made downtown in the South Loop and on Michigan Ave. Dubbed the Magnificent Mile this is where some of the top brands from around the world have setup some of their most renowned shopfronts.
If you are looking for some of the best attractions on this stretch, we have some recommendations for you right here:
Top 10 Magnificent Mile Attractions & 10 Great Stores To Visit On Michigan Avenue Chicago.
This also contains Water Tower Place, which is a shopping mall like few others. It is easy to spend an entire day in here if you are into that sort of thing.
Museums :
By far, some of the top Chicago tourist attractions are the museums. The city provides a very large variety– from art to history, science and so many other options.
The Art Institute of Chicago is one of the most highly-respected museums in the world. They have a permanent collection, as well as an ever-changing rotation of artwork and exhibits. There are even multiple choices for eateries while there. The last time I visited, I was hustling through the majority of it and still spent 3-hours there.
The Field Museum gives you an in-depth look into the world that we live in. Take a look back into history, examine the present and contemplate the future. There truly is something for everyone here– many of the exhibits have somewhat of a hands on approach to keep interaction and interest high. Definitely one of my favorite Chicago tourist attractions– whether you are a tourist or not.
Alder Planetarium offers a look into the space around us– outer space that is. Not only do they have exhibits that give you a close up look into the different sectors of space, but they also have a plethora of telescopes to really give you a view of what the sky has to offer. One of the neatest experiences in the city.
Shedd Aquarium is another easy one to get caught up in all day. Their aquariums are absolutely amazing– each signifying a different underwater habitat and the creatures that occupy it. I feel like a child every time I visit– face pressed up against the glass watching attentively to each and every creature. It blows my mind. They also have awesome 4D shows, the last one I saw was Pixar's Ice Age related. Their main shows are also fascinating. The Beluga Whales are pretty rad creatures.
The Chicago History Museum provides a deep look into how the city came to be. It is filled with old photographs and artifacts that aided in shaping the city. Chicago is such a massive, diverse city; which means that there is a lot of history behind it all. Prepare your brain.
The Museum of Science and Industry is one of the most interactive museums in Chicagoland. The hands on approach always seems to make learning more fun. From a restored U-505 German Submarine, a simulated coal mine, rotating exhibits and robots– you will leave with a deeper insight into just how much the industrial revolution came to shape today's industries, as well as where we are progressing today.
The Museum of Contemporary Art houses one of the largest galleries of modern art in the nation– so if that is your favorite genre, prepare to be in creative heaven. The also host some of the largest touring art exhibits around. Their unique sculpture garden is enough of a reason to visit.
Parks :
The nice thing about Chicago is that it values its green space just as much as its architecture. This means that Chicago is full of parks that not only provide a little dosage of nature, but also provide as areas for major events. From sculptures to music festivals and farmers markets– Chicago parks are diverse.
The famed Millennium Park is home to one of the most popular Chicago tourist attractions, the Cloud Gate.. or the Bean to everyone but the artist. Selfie sticks are all the rage these days, just don't clothesline someone.
Grant Park contains the colorful, wet spectacle known as the Buckingham Fountain. The evening, with the sun setting, is the perfect time to visit– the lights from the fountain accent the sunset lights reflecting on the skyline quite nicely.
Garfield Park is truly a place for the community to come together. Located on Chicago's West Side, it is full of activities– a gymnasium, auditorium, dance studio, fitness center, boxing center, grand ballroom and meeting rooms, swimming pool, baseball fields, athletic fields for football or soccer, a fishing lagoon, tennis courts and converted tennis courts for bicycle polo and in-line skating, playgrounds and floral gardens. Some inside, some outside- so it is still usable in rain and snow.
Lincoln Park is very widely known, due to their zoo, but it is enjoyable regardless of making it in to see the animals or not. Lush trees, plush grass, close to the lakeshore and areas to relax and even enjoy fine dining ( North Pond ) makes this a welcome destination for all.
Having just received a full makeover– Maggie Daley Park is sure to become a one of the top visited parks. This is a place that the entire family can enjoy. From the picnic groves, to the huge play areas, climbing wall and seasonal ice skating rink– there is no short of entertainment here.
If you prefer the sand over grass, then maybe the Chicago beaches will do you justice.
Top 10 Beaches In And Around Chicago
Zoos :
Some may argue that the entirety of Chicagoland is a zoo. But, if you are seeking actual animals from all of the world– Chicago provides them all.
Lincoln Park Zoo is situated in downtown Chicago, and it has been that way since they opened in 1868. With a gorgeous park area and situated close to the lakefront, there is much to do here. The admission is free and the animals are plentiful. They are open 365 days a year, with events and special exhibits going on many of those days.
Brookfield Zoo has been a staple in the Chicago area since 1934. It is roughly 14 miles from The Loop, but if you find yourself in the area, I highly recommend indulging. On top of their exhibits, they have special events that run through the year.
Architecture :
Visiting museums are not necessary to see art in Chicago. Art is all around. One of the largest (literally) Chicago tourist attractions are the buildings. From pieces of historic Chicago, before the fire, to present day fortresses, they are all awe inspiring.
The Chicago Architecture Foundation is a great place to start for everything architecture related in Chicago. They have exhibits, tours (including water tours) and a plethora of knowledge waiting for you.
Willis Tower once held the record for being the tallest building ever to be erected, back then it was known as the Sears Tower though. Venture up to the 103 floor of this 108 floor building to experience amazing views of the city. The Skydeck offers breath-taking views– and once you step out onto their completely transparent ledge, you'll be able to see the city below your feet.
The John Hancock Center is home to the John Hancock Observatory and the new attraction, TILT. This is also much like a transparent box that lets you essentially step pass the ledge of the building to explore the view directly above and below you, however, this one has a unique feature. The box will tilt over, giving you a very unique view of the buildings below. Plus, it is exhilarating to feel yourself tilting into essentially nothing.
If you are looking to enjoy a phenomenal view and indulge in some great food, be sure to visit some of these restaurants: Top 10 Chicago Restaurants with a View
Theaters :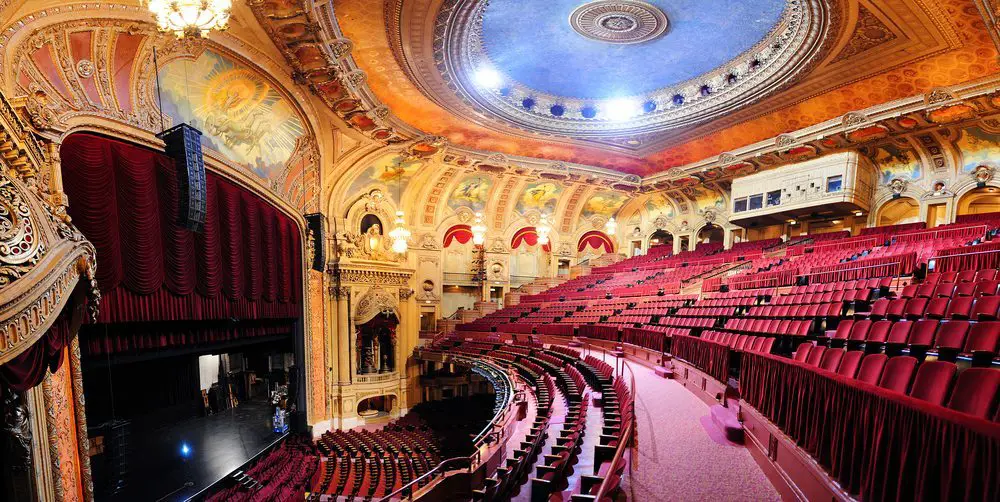 The Chicago Theater has been an icon since it was first built in 1921. It had set the bar for all theaters built thereafter. It is located in the heart of downtown, but after stepping inside you feel like you are transported into another era. The interior of this building is absolutely astonishing.
As far as opera houses go, the Civic Opera House and the Lyric Opera House are about the best that you can get. Beautiful designs and a mass amount of history create a certain aura that is completely unique to these two venues.
Water :
There is no point in Chicago having waterways if no one uses them– which is precisely why you should make sure that you find yourself on them.
Shoreline Sightseeing provides boat tours on both the lake and river, as well as water taxis for a unique commute experience. They have multiple tours to choose from– including a phenomenal architecture tour and history tour that gives you a different perspective of the city. If you opt for a later tour, it'll end with a fireworks show from Navy Pier. They also have special event cruises– from romantic dinners to brewery and wine cruises.
If you are looking to be more hands-on than a cruise– then kayaking, standup-paddle-boarding, renting a sailboat or a jetski may be exactly what you are looking for. There are many places to rent these items in Chicago.
Top 5 Ways to Experience Chicago Sights Outside of a Car
Even better, meet some people and hop on a yacht to the Playpen.
The Playpen is essentially a floating club. People tie their yachts and boats together to create a giant floating party with the Chicago skyline in view.
Navy Pier :
Seemingly a mix of many of these categories, Navy Pier is receiving its own section. It is a great stop for families or just adults alike. It provides a great view of the skyline and the lake, as well as a perfect place to people watch. There are eateries and bars, stores and a movie theater– and of course a ferris wheel and other rides. There are frequent special events that take place here, so it always feels fresh.
If you are a Chicago native or just have a lot of time to spare when in town– then check out this list. It is full of hacks to visiting some of the most popular Chicago Tourist Attractions – 14 Touristy Things Chicago Natives Need to Do
Average rating:
0 reviews