Warm Bus Shelters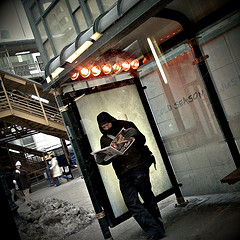 If you are from Chicago you are probably used to the cold.' But as a special treat Tylenol Warming Liquids is providing heated bus shelters.' You may have to share your space with quite a few people but if you happen to be out late, you can enjoy a little warmth while you wait.' If you are walking, you can step in and get a little heat as you go along your way.
These shelters will last through March 8th.' The heated bus shelters are at selected locations:
16 South Clark Street @ Madison
197 North State Street @ Lake
300 North Michigan Avenue @ Wacker Place
431 North Michigan Avenue @ Hubbard
757 North Michigan Avenue @ Chicago
538 West Madison Street @ Clinton
1 East Washington Avenue @ State
5 South Michigan Avenue @ Madison
221 North LaSalle Drive @ Haddock Place
533 North Dearborn Street @ Grand
Enjoy the warmth.' Just think Spring is around the corner.
Related Stories
POSTED IN: Events