Heller International Building
Another one of Chicago's architectural marvels is the Heller International Building. Completed in 1992, this skyscraper is the tallest building in the city west of the Chicago River. The turret at the southeast corner is the structure's highest point, approximately 45 stories high, and is lined with white lights in the evening.
Designed by Skidmore, Owings, and Merrill, the building's main entrance (beneath the tower) is a hollowed-out rotunda which leads visitors into a lavishly decorated lobby. For folks outside, an arched passageway shelters pedestrians along Monroe Street. However, you may want to be a few blocks away in order to adequately admire the 600 feet (183 m) of Heller International's unique asymmetry.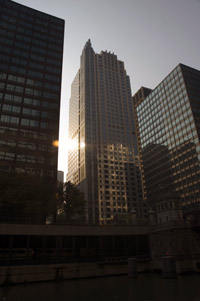 Photo credit: (c/o Flickr) daecks
Heller International Building: 500 W Monroe St
Public trans: Bus # 14, 20, X20, 38, 56, 60, 124, 125, 127, 156, 157
Brown/Pink/Purple/Orange Line train (Washington, Quincy)
Metra (Union Station)
Tags: architecture, brown-line, chicago, chicago-river, downtown, loop, orange-line, pink-line, purple-line, skyscrapers, west-loop
Related Stories
POSTED IN: Architecture & Attractions