Daley Center
I've been fairly fortunate in that I've only been summoned for jury duty once in my life. After a couple hours of waiting and interviews, I was dismissed before the trial even began. But whether it's for a couple hours or a couple days, Chicagoans serving jury duty usually head to the Richard J. Daley Center, with more than 120 court and hearing rooms as well as the official law library of the City.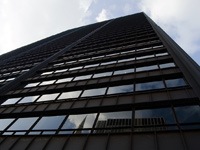 The Daley Center is the premier civic center of Chicago (named after Major Richard J. Daley) and is considered one of Chicago's architectural highlights for several reasons. It was the first major public building to be constructed in a modern architectural style instead of a classical one. At 648 feet (198 m), it was the tallest building in Chicago upon its completion in 1965. And it was the first building to use self-weathering Cor-Ten steel as an exterior 'skin,' designed to actually strengthen the structure as it rusted and give the building its unique reddish-brown color. The Daley Center's lobby and plaza are frequently used for cultural events and political demonstrations.
Even more famous than the building itself, a monumental enigmatic sculpture from Pablo Picasso sits in the Daley Plaza. Simply called 'The Picasso,' it is built of the same steel that is used in the building. But what exactly is it? A dog? A horse? A woman? What do you think?
Photo credit: (c/o Flickr) Upsilon Andromedae, paul goyette, Osbornb, tacvbo (1, 2, 3), Simon Willison
Richard J. Daley Center: 55 W Randolph
Public trans: Bus # 2, 6, 10, 22, 24, 29, 36, 62, 134, 135, 136, 144, 145, 146, 148, 156
Red/Blue Line train (Washington) (Red Line station closed through 2008)
Blue Line train (Clark)
Red Line train (Lake)
Orange/Pink/Green/Purple/Brown Line train (Clark, State)
Tags: architecture, Architecture & Attractions, art, blue-line, brown-line, chicago, courts, downtown, green-line, law, loop, orange-line, picasso, pink-line, purple-line, red-line, sculptures, skyscrapers
Related Stories
POSTED IN: Architecture & Attractions, Art, Collectibles and Hobbies