November 14, 2007
Vito & Nick's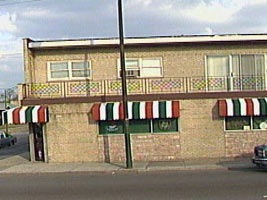 Just how far would you be willing to trek for a good Chicago thin-crust? Because just like the fabled man who hikes up the highest mountain to hear the enlightened's wisdom, Loop residents and northsiders will be in for a long journey to the South Side to experience the perfect authenticity that is the original Vito & Nick's. But trust me, it will be oh-so worth it.
Oh, sure, the decor may leave something to be desired. Brown carpeted walls, primary-colored light bulbs, linoleum floors that probably haven't been updated since the '60s… But one bite into their signature super-thin crust pizza and you'll understand why Vito & Nick's regular following keeps coming back. Who cares what's on the walls? It's all about what's on your plate, right? While the pizza is as thin as a cracker, it's not as hard or crispy as one. The meats, sauce, and cheese are all applied in proper proportion; even if you get the 'garbage' pizza (which has just about everything on it), you won't feel overwhelmed. Just satisfied.
I hear there's other stuff on the menu: salads, sandwiches, pastas, waffle fries, hot wings, jalapeno poppers… but really. What could be finer than a large thin-crust, a pitcher of Old Style, and some interesting people-watching?
Photo credit: Vito & Nick's
Vito & Nick's ($): 8433 S Pulaski Rd; 773-735-2050
Mon ' Thurs: 11:00 a.m. ' 11:00 p.m.
Fri ' Sat: 11:00 a.m. ' 1:00 a.m.
Sun: 12 noon ' 11:00 p.m.
Street parking, free parking lot
Public trans: Bus # 53A
http://www.vitoandnick.com/