September 4, 2007
Pat's Pizzeria & Ristorante
Barbecue chicken… prosciutto… cauliflower… all these foods are good enough on their own, but you'd never expect to find them on a pizza… right? Well, these and a long list of ingredients are available for the famous thin-crust pizza at Pat's Pizzeria & Ristorante.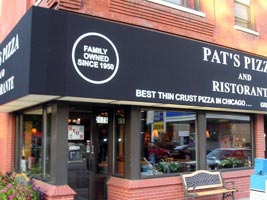 In a city known for its deep-dish, the crispy, paper-thin crust at Pat's has been voted among the best in Chicago. In fact, it was awarded "Best Thin Crust" by the Chicago Tribune in 1992, and even esteemed movie critic Roger Ebert has been quoted, "Best thin crust… period." So what makes this pizza so good? Maybe it's the fact that the crust takes no less than three days to prepare. For over fifty years, the chefs at Pat's have maintained the same recipe, the key factor of which is making sure the yeast doesn't rise.
Before you get to your pizza, be sure to try the appetizers like fried calamari, rib tips, chicken wings, fried ravioli, and the must-MUST-have garlic bread'a half baguette coated with garlic and spiced butter and baked with mozzarella cheese on top.
If pizza isn't your thing (blasphemy!), Pat's also offers plenty of other Italian entrees, including filet mignon, chicken perugina (half-chicken saut'ed with potato wedges, Italian sausage, mushroom caps, and black olives in a garlic-rosemary sauce), and salmon & penne (pasta tossed with pieces of salmon and mushrooms in a tomato cream sauce). All entrees come with soup or salad and the aforementioned to-die-for garlic bread.

Those looking for lunch will also find plenty of sandwiches on the menu. The New York steak sandwich is grilled to perfection, and the chicken parmigiana sandwich tastes great with its marinara sauce and melted mozzarella.
Desserts are also available (spumoni, tiramisu, chocolate banana cake), but Pat's is really all about the pizza. Try one of the specialty pizzas like the taco pizza, the vegetarian, or the popular "Pat's Pizza," which is topped with sausage, mushrooms, green peppers, and onions. Or build your own and choose from over 30 toppings. But one word of advice: don't get too crazy with the ingredients. The super-thin crust can only handle so much weight, and you wouldn't want it to fall apart in your hands.
Pat's Pizzeria & Ristorante ($): 2679 N Lincoln Ave; 773-248-0168
Dine-In Hours
Mon-Thurs: 11:00 a.m. - 10:00 p.m.
Fri: 11:00 a.m. - 11:00 p.m.
Sat: 1:00 p.m. - 11:00 p.m.
Sun: 1:00 p.m. - 10:00 p.m.
Delivery Hours
Sun-Thurs: 11:00 a.m. - 12 midnight
Fri-Sat: 11:00 a.m. - 1:30 a.m.
Free parking lot, street parking available
Public trans: Bus # 11, 76 or Brown/Purple Line train (Diversey)
http://www.patspizza.info/