Michael A. Bilandic Building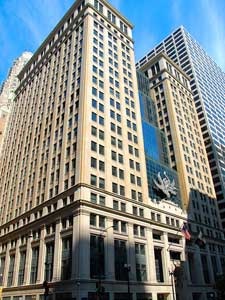 This 275-foot (84 m), 21-story skyscraper actually goes by a few names: the Michael A. Bilandic Building, the Burnham Building (named for the architects), and even the State of Illinois Building, even though a new state government building was constructed across the street (the Thompson Center) in 1985. Completed in 1920, the structure now serves as the state government annex.
In 2003, the building (across Randolph St from Hotel Allegro) was renamed in honor of former Chicago Democratic mayor and Illinois Supreme Court justice Michael A. Bilandic. When Mayor Richard J. Daley died in 1976, the City Council elected this Bridgeport Alderman to fill out his term. Bilandic faced several labor clashes as mayor, including a gravediggers' strike, a butcher's union dispute, and a three-day riot in the Puerto Rican community. His undoing though came from an incredible blizzard in 1979 that essentially closed down the city. Bilandic was blamed for the city's slow response to the storm, and he lost the primary election to successor Jane Byrne.
Photo credit: (c/o Flickr) mason.flickr
Michael A. Bilandic Building: 160 N La Salle St
Public trans: Bus # 14, 20, X20, 56, 60, 124, 127, 134, 135, 136, 156, 157
Brown/Green/Purple/Pink/Orange/Blue Line train (Clark)
3-D View (Google Earth required)
Tags: architecture, blue-line, brown-line, chicago, chicago-history, chicago-politics, downtown, government, green-line, illinois, loop, orange-line, pink-line, purple-line
Related Stories
POSTED IN: Architecture & Attractions