Fountain Square Building
The Fountain Square Building in Evanston may not be very big, but it still makes a visual impact. The building takes its name from the plaza in front, which has a war memorial and three fountains, and it provided a temporary home to the Evanston Public Library while the library's new building was being constructed.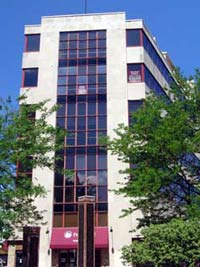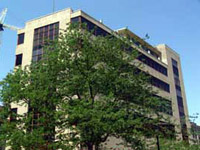 April 27, 1951. Douglas MacArthur,
General of the Army, placed a
wreath on this site, honoring
Evanston's war casualties with
these words:
I do not know the dignity of these
men's births but I do know the glory of
their death. They died that this nation
and all the things it stands for
shall not perish from this earth.
Photo credit: (c/o Flickr) polomex, winchesta
Fountain Square Building: 1601 Sherman Ave (Evanston)
Public trans: Bus # 201, 205 or Pace Bus # 208, 213
Purple Line train (Davis) or Metra Union Pacific North Line train (Evanston Davis)
Tags: architecture, chicago, evanston, north-suburbs, purple-line, suburbs
Related Stories
POSTED IN: Architecture & Attractions