Aon Center
Alright, so everyone knows the tallest building in Chicago, the Sears Tower. But can you name the second-tallest? Most Chicago natives probably know it without realizing it: the Aon Center.
Formerly known as the Amoco Building, the Aon Center was designed by architect Edward Durell Stone and completed in 1972. With a height of 1,136 feet (346 meters) and 83 floors, this building is the third-tallest in the United States and the 14th tallest in the world.
At the time of its completion, the building was the world's tallest marble-clad building. Unfortunately, Chicago's harsh winters caused the structure's Carrara marble to crumble. (Many famous sculptures of the Renaissance, such as Michelangelo's David, were carved from Carrara marble.) Stainless steel straps were wrapped around the building to keep any large chunks from falling off. From 1990 to 1992, the entire building had to be refaced with white granite at a cost of $60 million'half of what it cost to build the tower in the first place!
The building was originally named the Standard Oil Building, often nicknamed "Big Stan," and it was renamed the Amoco Building when the company changed names in 1985. When the building was sold in 2001 (at a price that was never made public), it became known as the Aon Center. This is the tallest building in the U.S. ever to change its name.
From a distance, the building may not look impressive with its "boring" box shape and vertical stripes. However, you may feel differently if you walk right up to it and try to crane your neck to see the top. Also, this "boring" design is exactly what makes it so unique, easily recognizable in the Chicago skyline. The Aon Center is the only box-shaped building in the world over 984 feet (300 meters) tall. It is also the tallest building in the world without any major antennae, spires, or finials at the top.
The top floors of the building are lit at night with colors that reflect the season or holiday. At Thanksgiving, the lights are orange; Christmas, green or red; Cancer Awareness Month, pink. The lighting usually matches the lighting on the antenna of the Sears Tower.
Photo credit: (embedded) J. Crocker, (clockwise, from top left) corydalus, wyliepoon, corydalus, euphoria
Aon Center: 200 E Randolph St; 312-381-5055
Public trans: Bus # 3, X4, 4, 20, 26, 60, 143, 145, 147, 148, 151, 157
Orange/Purple/Pink/Green/Brown Line train (Randolph)
Metra train Electric Line (Millennium Station)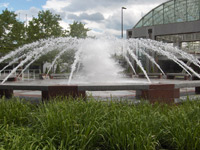 Tags: architecture, brown-line, chicago, downtown, edward-durell-stone, green-line, loop, orange-line, pink-line, purple-line, skyscrapers
Related Stories
POSTED IN: Architecture & Attractions