Blue Cross-Blue Shield Tower
Last week, I told you about Chicago's Aon Center. Right next door is another interesting building, the Blue Cross-Blue Shield Tower. In fact, original plans included an underground pedway that would connect the two buildings, but alas, it never came to be.
The Tower currently stands at 411 feet (125 m) with 32 floors, but that will soon change. The only office high-rise to be constructed in Chicago between '92 and '99, the structure was completed in 1997 and made to support 24 additional floors, to be built whenever Blue Cross Blue Shield needed the space. Thinking ahead, the designers chose fa'ade materials that would show minimal aging, so that it wouldn't be obvious that the additional floors were newer than the rest of the building. In July of 2006, BCBS finally planned to add those floors at a cost of $270 million, scheduled to be completed in 2010.
Finally, the large expanse of windows facing Grant Park is often used at night as an illuminated billboard, spelling out words to commemorate or celebrate events and happenings in Chicago.
Photo credit: flatiron32, dgphilli, 24gotham
Blue Cross-Blue Shield Tower: 300 E Randolph St
Public trans: Bus # 3, X4, 4, 20, 26, 60, 143, 145, 147, 148, 151, 157
Orange/Purple/Pink/Green/Brown Line train (Randolph)
Metra train Electric Line (Millennium Station)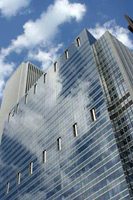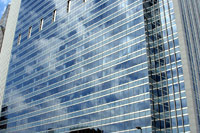 Chicago was selected on April 14, 2007, to represent the United States internationally for the bid for the 2016 Summer Olympics.
Tags: architecture, brown-line, chicago, green-line, lohan-associates, loop, orange-line, pink-line, purple-line, skyscrapers
Related Stories
POSTED IN: Architecture & Attractions