Forno Rosso owner, Nick Nitti spent a large part of his childhood in Italy where he fell in love with the simplistic pizza in Naples. That led him to attend culinary school in Italy, study Neapolitan pizza in Naples, and open Forno Rosso back near his home in Chicago's Dunning neighborhood. The strip mall pizzeria only a few miles from O'Hare airport quickly became a local favorite and started to attract fans from all over Chicago—just check out Forno Rosso's incredible 4.5-star Yelp score.
Thanks to the Dunning location's success, Chicagoans have a much shorter commute to Forno Rosso's second location on Restaurant Row at 1048 W. Randolph St., across from Oprah's recently closed Harpo Studios.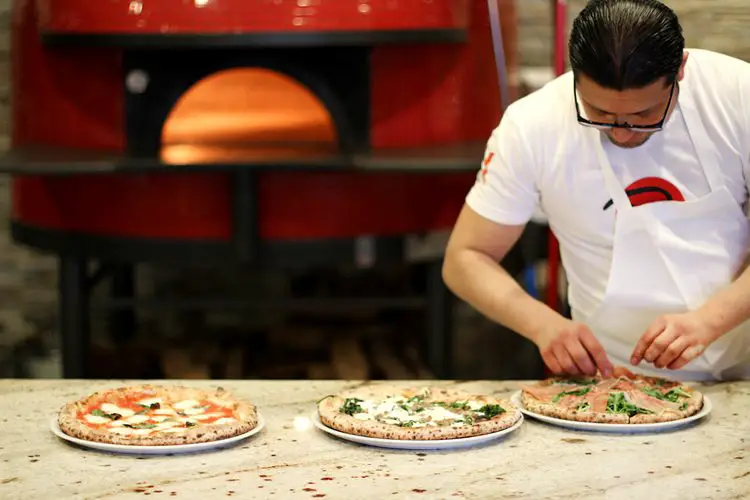 VPN Certified Pizza
The Verace Pizza Napoletana (VPN) is a non-profit group that's dedicated to preserving the traditions of Naples pizza making. As part of the VPN, Forno Rosso is required to use certain techniques, equipment, and ingredients. The dough spends at least a day rising out in the open and never gets refrigerated. A majority of the ingredients are flown in weekly from Italy and pizzas are sent into a brick oven that gets as hot as 1000 degrees and can cook a pizza in about a minute.
While there's no requirement to be in the VPN to make Neapolitan-style pizza, nor does it ensure pizzas are actually good, offering VPN certified Neapolitan pizza is a testament to Nitti's dedication to the craft.
Restaurant Atmosphere
As of right now, Forno Rosso sits towards the end of Restaurant Row with a little less traffic, making it a bit quieter and more relaxed. However, I'm sure as I type this 12 more restaurants have opened right next door. It sits at the bottom of a very modern condo building with wall-to-wall windows that let in plenty of natural light. With the help of all that light and the rich wood that lines the ceilings and interior walls, Forno Rosso has a warm, homey feeling– but it's still sleek enough to make sense for its location and neighborhood. The welcoming demeanor is further amplified by owner Nick Nitti, who bounds back from the bar to the kitchen helping out and stopping by to greet every customer.
There's also a slight entertainment aspect to dining at Forno Rosso if you're seated by the open kitchen and its very large, bright red dome oven. The chefs' hands are all on top of each other feeding ingredients into the dough, slip the pizza into the oven, and in a blink of an eye it's ready to come out. Seeing your pizza go from the kitchen to table in just a couple minutes is like a restaurant magic show.
Drinks
Though pizza focused, every aspect of Forno Rosso is well thought out and that includes the bar full of Italian wines, beers, and handcrafted cocktails.
I tried one of their newer drinks, the Aperol Fizz, made with egg white, sparkling water, cane syrup, and fresh lemon juice. Aperol is uniquely both sweet and bitter and acts as a palette cleanser—this came in handy switching between different pizzas. The cane sugar enhances the sweetness while the lemon and sparkling water give it plenty of zest. Meanwhile, the egg white thickens up the cocktail a bit and balances out the water.
My dinner companion tried Forno Rosso's most popular drink, the Rosso Strawberry Basil Martini. I was told it was fresh and fruity and not too sweet. She loved the pieces of real basil floating in the drink and that every ingredient was identifiable on the tongue. To me it tasted like if strawberry cough syrup was incredible, and you wished you got sick every day.
Food
Burrata
The $16 price tag for burrata and focaccia bread might throw you off, but this isn't the burrarta you'll find at just any Italian restaurant. Forno Rosso flies in their burrata and fresh buffalo mozzarella from Italy every week, and it's unlike anything you've ever had.
A soft, mozzarella shell gives way to pure creamy goodness where you can really taste the milky flavor. Most burratas I've had in Chicago taste like they've been in the fridge for days and there's not much of a differentiation between fresh buffalo mozzarella. Forno Rosso's tastes like they have an instant portal to Italy in their kitchen, it's that fresh.
Pizza
Neapolitan pizzas are thin crust and chewy with a bit of crunch and char from the brick oven. They're historically more on the simplistic side in terms of ingredients, so every ingredient has to be perfect or the pizza isn't going to be good. Forno Rosso separates the menu between red pizzas with sauce and white pizzas that are just cheese with many different ingredients (many of which are also coming from Italy). Pizzas start from $11 and go up to $20. They're easy to share, leaving you enough room for an appetizer or dessert.
Pizza Tartufo
On the white side, I tried the Pizza Tartufo where every bite is filled with savory decadence. Topped with black truffle pate, locally made sausage, mozzarella, fresh basil, and porcini mushrooms– this is a foodie dream. It's very rich and heavy so you wouldn't want it every visit, but eating the Pizza Tartufo makes you feel like you're a worldly European person of importance with multiple penthouse apartments.
Carbonara Pizza
The red Carbonara pizza I tried is just as sophisticated, but something you can easily eat a lot of (when I eat pizza, I mean business). Besides the base of San Marzano tomato sauce and mozzarella cheese, there are big pieces of pancetta and an egg in the center lightly dusted in cracked black pepper. There's a perfect balance of sauce and cheese and the egg isn't messy or making everything a soggy mess. The best part, though, is the pancetta that's slightly crisp and still tender and wonderfully salty. I think many people would swear off bacon forever if they could eat this pancetta all the time.
Dessert
Though my belly was full, I soldiered on—someone has to take on the burden of eating incredible Italian food for the people—to dessert. I had been eying a pyramid of gigantic Nutella tubs all night long that I discovered are to make a Nutella pizza. The chefs throw a pizza crust into the oven till it puffs up, and then slice it through the middle.
Inside they put a layer of Nutella and bananas, layer the crust on top like a pie, and then back in the oven until crisp like a cracker. It's topped with powdered sugar and strawberries. Sure, it's sinful, but not as rich as you might think. You'll fully satisfy your sweet tooth without your stomach feeling terrible after.
As a side to that, I tried a scoop of their hazelnut gelato. Once you've experienced the richer flavor and heavier body of gelato, it's hard to go back to regular ice cream. Forno Rosso's gelato was very fresh, the flavor was spot on, and I can safely say it's just as good as my personal favorite– Black Dog Gelato.
Bottom Line
Without any hyperbole, I can easily say that Forno Rosso is incredible and easily one of the best restaurants I've visited during my tenure at The Chicago Traveler. The main price of admission is their dedication to the principles of Neapolitan pizza and the resulting tastiness, but everything you try here from the drinks to the desserts is going to be crafted with the same level of immaculate care.
Forno Rosso
1048 W Randolph St, Chicago, IL 60607
(312) 243-6000