Chicago was once known as one of the bacon capitals of the world. Back in the day, much of the pork in the U.S. of A. came from Chicago. Maybe that is one of the reasons that bacon bars exist in this land– a homage to the yesteryears. Or, maybe I need to stop being sentimental and come to the conclusion that people just really enjoy bacon and these restaurants aim to please your tastebuds in the most satisfying of ways.
Chicago's Bacon Bars:
Kaiser Tiger
1415 W Randolph St, Chicago, IL 60601
(312) 243-3100
Kaiser Tiger's is an exquisite home of delectable meats– primarily bacon and sausage. Beer and bacon pairings, as well as Bacon Grenades (spicy deep-fried pork and beef meatballs, which is then engulfed in bacon and beer battered) are just a couple of their specialties. They have a respectable beer selection and a killer patio that will be the home of Bocce Ball soon.
Overtime Bar
801 E Roosevelt Rd, Lombard, IL 60148
(630) 376-6947
Overtime Bar specializes in bacon and booze– which is why they have a dedicated bacon menu. Start with a bacon appetizer, indulge in a bacon entrée, then splurge with a bacon dessert– solid night. If you are a sports fanatic, Overtime Bar will make you even happier. They are equipped with all of the TVs and bacon that you require.
Paddy Long's Beer & Bacon Pub
1028 W Diversey Pkwy, Chicago, IL 60614
(773) 290-6988
Paddy Long's is a very relaxed venue– but I can't quite give you the "relaxed enough to unbutton your pants after dinner" seal of approval. That is a risk that you must take on your own, my friends. This pub specializes in exactly what the name states. Bacon and beer pairings, along with a bacon menu, making Paddy Long's a must stop for pork lovers. If you are up for a challenge that will, or should, intimidate the largest carnivore– feast your eyes upon their The Bomb Challenge (I dare you).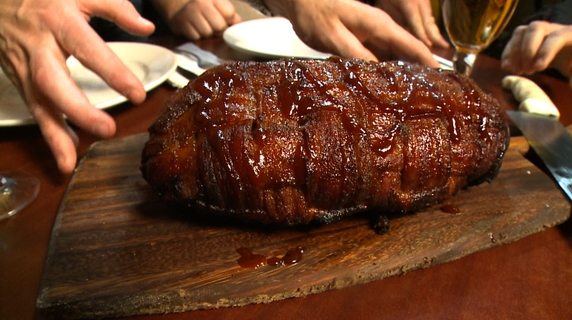 Butcher & Larder
1026 N Milwaukee Ave, Chicago, IL 60642
(773) 687-8280
If you are more the type of person that enjoys to eat their bacon in the privacy of their own home– then Butcher & Larder is waiting for you. This premium butcher shops has some of the highest quality cuts around. Those cuts are even cut to your specification. Do you like thin bacon that takes no time to cook, or are you more of a thick slice fan that enjoys the prolonged sizzles coming from the pan? Whichever, they'll cut it however you like. Be sure to drool over these heavenly bacon recipes before you swing by so you know just how much bacon to buy.
Schmacon – Schmaltz Delicatessen
Tower Crossing Associates
1512 N Naper Blvd #152, Naperville, IL 60563
(630) 245-7595
What if I told you that there was an alternative to bacon that was still meat, but didn't involve turkey? Would you curse at me and throw me into the streets? Before you riot, hear me out. Schmaltz Delicatessen, in Naperville, has reinvented bacon in beef form– Schmacon. The taste is unique– it's beef after all– but the texture is very similar to bacon. Small strips that can be fried up or baked to create the perfect side or accent a dish. On top of being loaded with flavor– it actually has quite the health advantage over its pork brethren. Much less fat and cholesterol. Plus, everyone that was deprived of bacon for various reasons (health or religion, etc..) can now immerse themselves in something similar. Schmacon is relatively new to the market, but it is beginning to make its presence known. Last, but certainly not least, is the fact that it received the National Restaurant Association's Food and Beverage Innovation (FABI) award of 2014. Other than the main shop in Naperville, you can find it at these locations:
Crosstown Pub and Grill, 909 E. Ogden Ave., Naperville, IL 60563 (630) 357-9775
Haute Sausage, 335 S. Franklin St., Chicago, IL 60606 (312)212-1700,
Union League Club of Chicago, 65 W. Jackson Bvd, Chicago, IL 60604 (312) 427-7800
Average rating:
0 reviews