The West Town area over the past couple years has truly become a hip place to hang out thanks to trendy shops and boutiques and great restaurants. The latter includes Unite Urban Grill, a sleek and chill neighborhood steakhouse concept. I was invited to stop on by the Chicago Avenue restaurant to try out their new spring menu.
General Atmosphere
Entering Unite, there's a large lounge section filled with couches and artistic photos of the city, which seems like the perfect place to stop off for a drink after work or on the weekends. The interior is filled with cool grays and blues that give the restaurant a relaxing, comforting feeling while bursts of orange and exposed brick wall give Unite some liveliness. Popular indie rock bands like TV on the Radio, Spoon, and the War on Drugs played over the sound system at a moderate volume.
Overall, Unite has a pretty minimal aesthetic with some fun accents. In particular the lighting, especially the globe-shaped arrangements illuminating the bar, is quite nice.
Drinks
Besides wine and craft beer, Unite Urban Grill has a selection of neighborhood-themed cocktails. I started with the Lincoln Park, a refreshing lemon flavored drink with a spicy kick that seems tailor made from spring. For my second drink, I tried the Uptown. It comes with a brilliant red color sitting on top of yellow and has a fruit punch taste with definitely more of a strong alcohol flavor.
Food
Their grass fed beef steaks are the centerpiece of the menu and carry steakhouse prices, but Unite offers a variety of enticing snacks, fresh vegetables, seafood, and pasta if you or your party want a more low key meal or just don't like steak. I got to try quite a bit and here were some of the highlights.
Appetizers
Stuffed Whole Artichoke: You don't see artichoke a lot these days on restaurant menus and that's a shame. This full artichoke had a rich, green color and soft leaves paired with a satisfying crunch courtesy of some quinoa and bread crumbs.
Lamb Meatball Flatbread: This was the chef's flatbread of the day. While the flatbread was a bit chewy and hard to cut, the mix of pesto, goat cheese, and the meatballs was an adventurous choice that paid off. If they don't have this while you're there, they do offer a regular lamb meatball appetizer.
Grass Fed Steak Tartare: Steak tartare is another dish you don't see all that often, and it is great Unite is modernizing some old favorties. Served with an egg on top with toast, the tartare had a creamy consistency and wasn't too heavy.
Main Course
If you're looking for the steakhouse experience, Unite offers a hanger steak, NY Strip, ribeye, or bone-in pork chop. You can add a shrimp skewer or lobster tail to any entr'e if so desired, and they do also offer a fish of the day.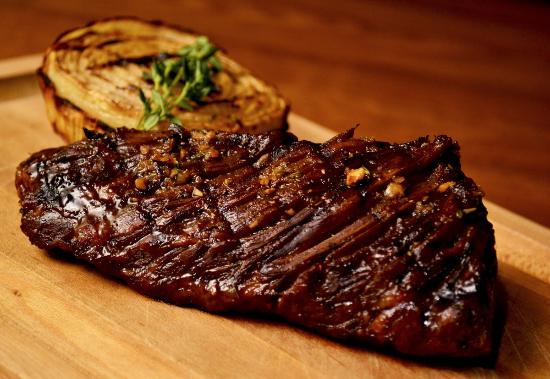 Not wanting to fill up too quickly, I went with the eight ounce hanger steak. Presented simply on a small cutting board, the steak was very juicy and perfectly tender. Historically I haven't been much of a steak guy, but lately I've had a string of great Chicago steak experiences that have won me over.
Sides and Salad
Everything is A La Carte on the menu, and you will want at least a side to accompany your entr'e.
Kale Salad: Kale has been the 'it' salad for awhile now and seems to have firmly taken ahold of every restaurant menu. Besides using very fresh and crisp kale, the Unite salad stands out with its refreshing bursts of pomegranate. What was really notable is the sunflower seeds that give it an earthy, nutty flavor.
Grilled Ramps: The city of Chicago took its name from the Chicago natives' word for this wild onion. Long with a small bulb at the bottom, ramps can look a little strange, but were well served by Unite. Their Grilled ramps had a satisfying crunch and an underlying chili flake flavor.
Fries: French fries are always a treat at a steakhouse and these did not disappoint. Unite's fries are small, thin, and crispy. A classic steak pairing.
Wild Mushroom Risotto: Years of watching Hell's Kitchen and Gordon Ramsay consistently screaming about overcooked risottos convinced me ordering risotto was something I'd regret. Fortunately that wasn't the case at Unite, and the creamy dish was a highlight with prominent mushroom and parmesan flavors.
Desserts
As if I hadn't already stuffed myself with steak and sides, Unite Urban Grill brought around a trio of desserts to finish off the evening:
Deep Fried Cherry Hand Pies: This immediately got my attention on the menu. While my mind conjured the image of a giant slice of pie deep fried in dough, they came in a much more manageable platform. These were kind of like empanadas with flaky pie crust rather than breading with a sweet cherry pie inside. Very unique and very good.
Peanut Butter Mousse Cake: I was told this has been a consistent favorite and has never left the Unite menu. It's easy to see why. The pairing of flourless chocolate cake and peanut butter mousse is sinfully decadent.
The Unite Cheesecake: The twist of this strawberry-topped cheesecake is the crust is made from a mixture of graham cracker, pretzel, and potato chips. The cheesecake flavor wins out overall, but the crust is crunchier than most.
Bottom Line
West Town is a very fun place to live or visit right now, and a stop at Unite Urban Grill should be high on your list. Unite takes the steakhouse into a modern, contemporary atmosphere that's relaxing rather than stuffy and old fashioned. A variety of food options give you the choice of going for a classy yet casual date or just a place to grab a burger and a cocktail.
Unite Urban Grill
1450 W Chicago Ave, Chicago, IL 60642
(312) 455-8900
uniteurbangrill.com
Average rating:
0 reviews