Shedd Aquarium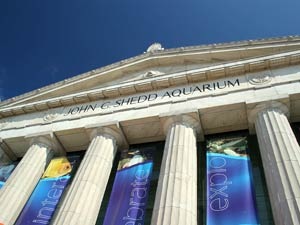 With about two million visits annually, the John G. Shedd Aquarium is one of the most popular cultural attractions in Chicago, second only to the Field Museum of Natural History. This massive indoor aquarium holds 5 million gallons (19 million liters) of water and is the home of 2100 species of fish, marine mammals, birds, snakes, amphibians, and insects.

The Caribbean coral reef is a must-see, a massive 90,000-gallon (340,000+ liters) exhibit featuring sharks, angelfish, parrotfish, rays, barracuda, tarpon, eels, whitedowns, and a green sea turtle. TV projectors provide detailed information on each of the sea creatures. If you have a question that still hasn't been answered, have an underwater conversation with one of the volunteer divers during presentations at 9:30 a.m., 11:00 a.m., 12:30 p.m., 1:30 p.m., and 3:30 p.m.
In the Waters of the World exhibit, press your face to the glass and check out the clown anemonefish and sea stars of the oceans, the otters and (misplaced) carp of the Illinois River, the blue iguanas of Grand Cayman, the grand gourami of Thailand and Vietnam, the frogs of South America, and much, much more.
Another favorite exhibit is Amazon Rising, which follows the annual rising and receding of the Amazon River and the animals that are affected. During shallower periods, animals like the wattled jacana and stingray flourish. During the rainy season, earthbound critters head for higher ground while fish and turtles swim into the flooded forest. Many animals, including the anaconda and caiman lizard, are able to live in both water and land. When the water is high, they feast on the fruit of low-hanging branches or, in some cases, animals that move a little too slowly. After the floods, receding waters carry many aquatic creatures back to the main river.
Finally, the Oceanarium is probably the Aquarium's finest feature. Cute, frisky sea otters can be viewed both on land and underwater in their multi-level habitat. Get hands-on with a sea star, sea urchin, or sea cucumber at the Tide Pool. Watch penguins as they march… and court and nest and swim. Meet the beluga whales in the Secluded Bay, where you're likely to see them smile or hear them chirp. Finally, the amphitheater can seat 1000 people, all watching the high-flying white-sided dolphins. All of this is surrounded by glass, looking out to the city skyline. The dolphins' and whales' pool matches the height of Lake Michigan's waters, making the surface of the water appear seamless.
An all-access pass costs $27.50 for adults, $20.50 for senior citizens and children (ages 3-11). Residents of the city of Chicago receive a 25-percent discount on admission. (Remember your ID!) Other packages with various accessibilities are available, e.g., day-pass, aquarium-only, etc.
Photo credit: dawn perry, creativity+, redrayder, tpbrown, nouQraz, vigilant20, rudezombie, whiteshark29
Shedd Aquarium: 1200 S Lake Shore Dr; 312-939-2438
Summer Hours (Memorial Day to Labor Day)
Daily 9:00 a.m. ' 6:00 p.m.
Regular Hours
Mon ' Fri: 9:00 a.m. ' 5:00 p.m.
Sat ' Sun: 9:00 a.m. ' 6:00 p.m.
Street parking difficult, pay lots available
Public trans: Bus # 12, 146
http://www.sheddaquarium.org/
Tags: animals, aquarium, chicago, downtown, educational, family-oriented, lake-michigan, Museums
Related Stories
POSTED IN: Museums