Walking into Belly Up, you'll be astounded by how surprisingly huge it is. The restaurant is very long and has these really high ceilings. The vibe is Chicago warehouse industrial with lots of brick, exposed fixtures, and wood ceiling beams with some subtle cowboy touches like pictures of horses and stacks of faux whiskey barrels. They do love country music, so be warned if that's not your thing.
Belly Up's large size, massive bar, and giant circular booths make this a restaurant great for large groups and guys' nights. During my visit, there was a huge crowd that had migrated over from a Soldier Field soccer game, which seems like what Belly Up was made for.
Fully-Loaded Saloon
One of the best ways to try several different meats is to order a platter for $45 where you pick three meats and three sides, which is more than plenty for three or four people. I went right for the brisket, which had an even smoky flavor—it's smoked for 12 hours, house rubbed, and sliced very thin—and was astoundingly tender to the point where it just seemed to melt right in your mouth.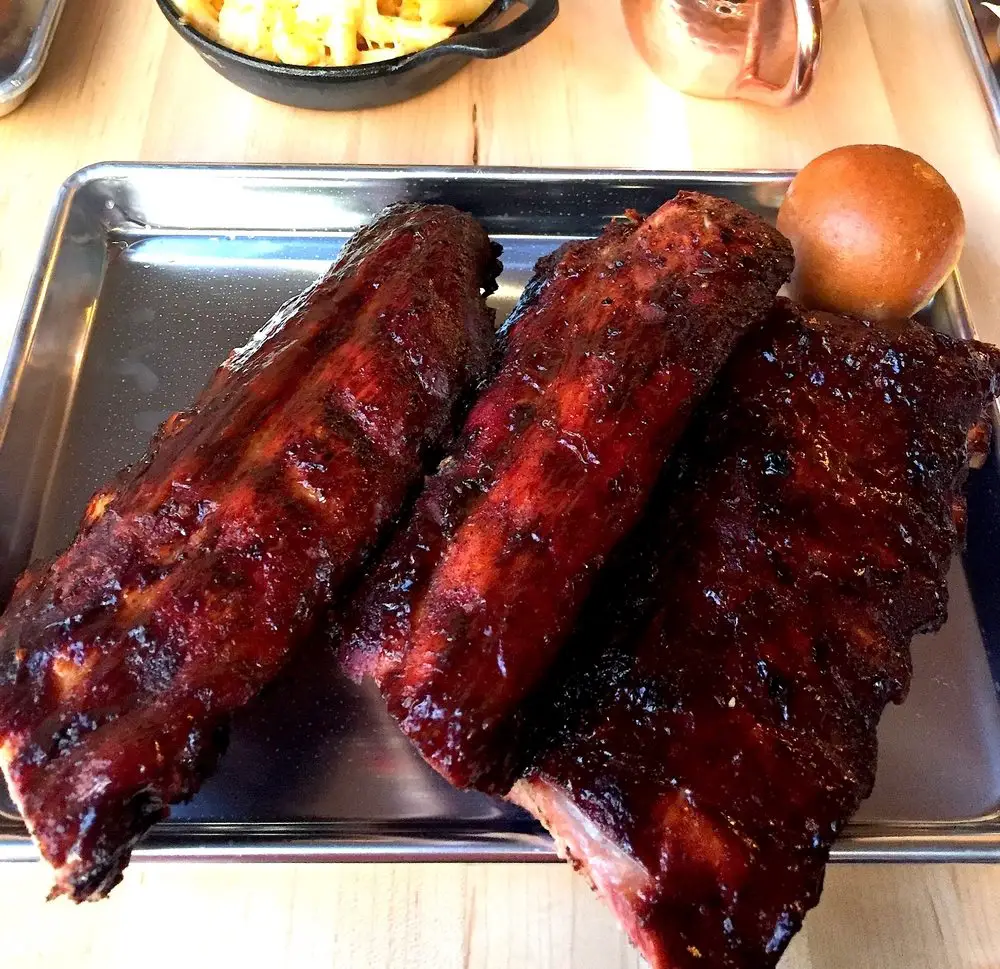 A bite of the pulled pork met expectations, but I'd highly recommend pork fans turn their attention to the baby back ribs. Easily the best dish I tried, these ribs fall right off the bone and are cooked perfectly. Regardless of what meat you get, the table comes with a full pack of barbecue sauces for you to try. As for sides, the crispy waffle fries, slightly spicy smoked mac & cheese, and the corn bread are typical compliments to whatever meat you pick– but justifiably so.
If you have a big appetite, I'd also recommend an order of the South Loop Spring Rolls. Inside a traditional fried spring roll shell, there's a unique, savory mix of pulled pork wontons, black beans, and pimento cheese. The interaction of the pork and pimento cheese is really interesting and tasty, and made even better after you dip the spring roll into the delicious avocado ranch sauce.
Bottom Line
Country music fans, dudes looking for a fun guy's night, or anyone planning on attending a Soldier Field game with a hunger for southern-inspired smoked barbecue should enjoy Bell Up Smokehouse & Saloon. While you're there grab a beer or cocktail, and be sure to give the ribs and brisket a try!
Belly Up Chicago
1132 S Wabash Ave, Chicago, IL 60605
(312) 929-3856
Leave a Review!
Average rating:
0 reviews