With Chicago's massive and ever-growing craft beer scene, it only makes sense to incorporate some of the brews into your meals. While it's always preferred to have a beer with dinner, cooking with beer can elevate the meal so much as well. Chances are you already have some Chicago craft beer in your fridge, or were about to go out to snag a six-pack anyways.
You'll find that beer can be added to almost any type of dish. Below, I have listed some of the dishes where the beer really adds another dimension to the food. Most of these are pretty straightforward and can be completed by anyone with basic cooking skills and the right utensils to get the job done.
The list is broken into:
' 3 Appetizers
' 4 Entrees
' 3 Desserts
Be sure to let us know in the comment section below what your favorite beers and dishes are to combine!
Appetizers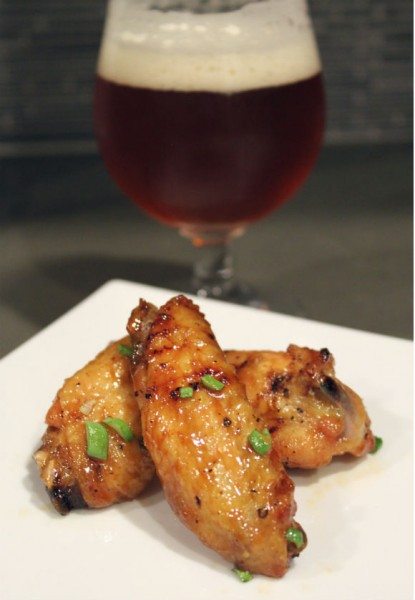 Belgian Tripel & Honey Black Pepper Chicken Wings
By The Beerista
Ingredients
Wings
5 lbs chicken wings (drums & flats separated, tips removed)
1 tablespoon melted butter, unsalted
2 tablespoon canola or vegetable oil
salt and pepper
Sauce
12oz Belgian-style tripel
1 teaspoon freshly ground black pepper
1/2 teaspoon coriander
Pinch of salt
' cup honey
2 garlic cloves, crushed
(Author) ' Chicken wings are always a welcome sight before a meal comes out, even though they can easily become the meal as well. The thing that I like about a beer based sauce is the lightness of it. It has enough flavor to taste it apart, but not too thick that it overpowers the flavor of the chicken. With a relatively short list of ingredients, this is relatively inexpensive. I'd go with her recommendation of saucing them and then baking them again for a few more minutes. It really embeds the flavor into the chicken. You can always add more sauce afterwards if desired.
Beer-and-Cheddar Soup
By Jonathon Erdeljac
Ingredients
1/2 pound piece of slab bacon, sliced 1/3 inch thick and cut into 1/3-inch dice
1 celery rib, finely chopped
1 small onion, finely chopped
1 large jalape'o, seeded and chopped
2 large garlic cloves, minced
1 tablespoon chopped thyme
One 12-ounce bottle lager or pilsner
About 2 1/4 cups low-sodium chicken broth
4 tablespoons unsalted butter
1/4 cup all-purpose flour
1 cup heavy cream
1/2 pound sharp yellow cheddar cheese, coarsely shredded
4 ounces smoked cheddar cheese, coarsely shredded
Salt and freshly ground pepper
Garlic-rubbed toasts, for serving
http://www.foodandwine.com/recipes/beer-and-cheddar-soup
(Author) ' I have fond memories of growing up in Midwest eating beer cheese. This soup taps into the nostalgia and intensifies the flavors even greater than I remember. While it does make for a good side, serving it as an appetizer with grilled or toasted French bread, or a jalapeno cheddar roll, really kickstarts your tastebuds. You can even'serve it in a bread bowl for a full meal.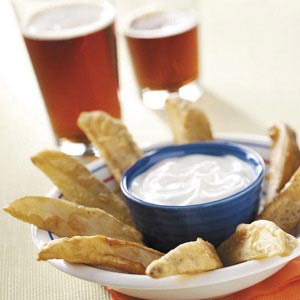 Beer-Battered Potato Wedges
by Taste of Home
Ingredients
4 medium baking potatoes
1 cup all-purpose flour
1/4 cup milk
1 egg
1 tablespoon seasoned salt
1 tablespoon canola oil
1/2 teaspoon pepper
1/2 cup beer
Oil for deep-fat frying
Sour cream, optional
http://www.tasteofhome.com/recipes/beer-battered-potato-wedges
(Author) ' One of the most satisfying things that I can think of are fries dipped in ranch dressing. However, one of the few things that are even greater is a properly cooked and fried potato wedge. The crunchy exterior complimented by a soft, fluffy interior is a texture combination that your mouth will love. Plus, they are super easy. If you don't have a deep-fat-fryer or electric skillet, you can use a pot with oil' however, it will be harder to regulate temperature so you need to pay attention. A cooking thermometer would help immensely.
Entrees
Beer-Battered Buttermilk Fried Chicken
By Grace Parisi
Ingredients
Buttermilk Soak
3 cups buttermilk
2 tablespoons kosher salt
1 tablespoon freshly ground black pepper
2 teaspoons cayenne pepper
4 pounds medium chicken wings, thighs and drumsticks
Beer Batter
2 cups all-purpose flour
2 teaspoons onion powder
2 teaspoons garlic powder
2 teaspoons cayenne pepper
2 teaspoons kosher salt
2 teaspoons freshly ground black pepper
18 ounces crisp beer, such as lager or pilsner (2 1/4 cups)
Vegetable oil, for frying
http://www.foodandwine.com/recipes/beer-battered-buttermilk-fried-chicken
(Author) ' I mean, c'mon' who doesn't love fried chicken? Once I became of age to drink beer, I feel confident in saying that 99.9% of my fried chicken experiences have been paired with beer. It really doesn't come with any astonishment that people are adding beer to this staple dish. Cooking with beer adds the slight tanginess of the brew, which accents the succulent chicken in a perfect manner.
Beer-Braised Turkey Tacos
By Deborah Schneider
Ingredients
2 tablespoons extra-virgin olive oil
Two 1-pound bone-in turkey thighs or drumsticks, skin and fat removed
Salt and freshly ground pepper
4 large garlic cloves, thinly sliced
1 medium white onion, cut into 1-inch dice, plus minced white onion, for serving
1 large oregano sprig
1 large jalape'o'stemmed, seeded and sliced crosswise 1/4 inch thick
1 medium tomato, coarsely chopped
1 ancho chile'stemmed, seeded and coarsely chopped or torn
One 2-inch cinnamon stick
One 12-ounce bottle Mexican dark beer, such as Modelo Negro
1 cup water
12 corn tortillas
2 tablespoons toasted sesame seeds and cilantro sprigs, for serving
http://www.foodandwine.com/recipes/beer-braised-turkey-tacos
(Author) ' If you are looking to dine on something a little lighter, fresh tasting and incredibly satisfying, then this is the dish to make. It doesn't even have to be 'Tuesday to indulge in tacos either, did you know that? Plus, turkey is'low in fat and high in protein, packed with essential minerals. Following Deborah's recipe will produce ridiculously tender turkey. I would recommend making extra meat and keeping whatever you have leftover in the fridge for omelets and sandwiches for the following couple of days.
Cacio e Pepe with Saison
By Bryan Richards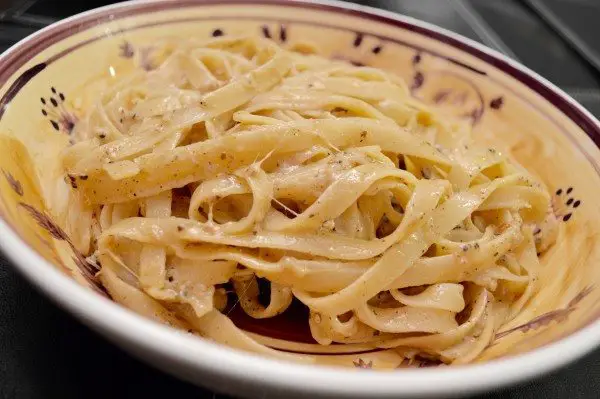 Ingredients
Kosher salt
12 oz pasta (author used Fettuccine)
6 Tbsp unsalted butter, divided into cubes
2 Tsp freshly cracked black pepper
1 cup of Saison (go for a traditional one without citrus or other flavor additions)
1 1/2 cups of finely grated Parmesan
2/3 cup finely grated Pecorino
(Author) ' Typically when one thinks of adding alcohol to pasta, either wine or tequila comes to mind. Surprise' you can use beer too! In a light sauced pasta, the different flavor notes contained in beer can shine through' especially a beer that contains earthy and spicy tones. I don't think it would be a crime if you decided to pair this beer pasta with a glass of wine afterwards either.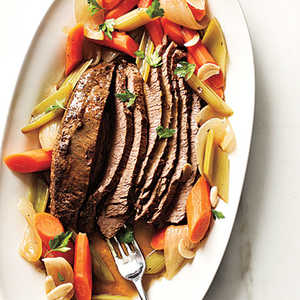 Beer-Braised Brisket
By David Bonom
Ingredients
2 teaspoons ground cumin
2 teaspoons sweet Hungarian paprika
1/2 teaspoon dried thyme
1 1/4 teaspoons kosher salt, divided
2 1/2 pounds flat-cut beef brisket, trimmed
1 tablespoon olive oil
1 1/2 cups pale ale
4 cups lower-sodium beef broth
5 garlic cloves, sliced
6 carrots, cut diagonally into 1 1/2-inch pieces
6 celery stalks, cut diagonally into 1 1/2-inch pieces
2 medium onions, each cut into 12 wedges
2 tablespoons all-purpose flour
1/2 cup water
http://www.myrecipes.com/recipe/beer-braised-brisket-0
(Author) ' Brisket sits high on the list of comfort food. The rich cut of beef protrudes with flavor and is a delicious treat every time that I eat it. Properly cooking brisket is relatively easy, but can take some time. However, the majority of that time is spent with it slow-roasting in the oven, so not much is required from you. There is no better way to work up an appetite than letting a brisket slowing cooking create a mouthwatering aroma throughout your home.
Dessert
Chocolate Guinness Cake Recipe
By Country Woman
Ingredients
Cake
1 cup Guinness (dark beer)
1/2 cup butter, cubed
2 cups sugar
3/4 cup baking cocoa
2 eggs, beaten
2/3 cup sour cream
3 teaspoons vanilla extract
2 cups all-purpose flour
1-1/2 teaspoons baking sodaTopping
1 package (8 ounces) cream cheese, softened
1-1/2 cups confectioners' sugar
1/2 cup heavy whipping cream
http://www.tasteofhome.com/recipes/chocolate-guinness-cake
(Author) ' For people that are chocolate fiends, you can't get much more appetizing than this for dessert. The rich chocolate is engrained throughout the ultra-fluffy and moist cake. To help balance out the richness, the cream cheese topping does a great job. Plus, the frosting mimics the foamy head found on stouts and porters. Just because this has the word Guinness in it doesn't mean that you have to use it. There are plenty of Chicago craft beers that can fill that spot.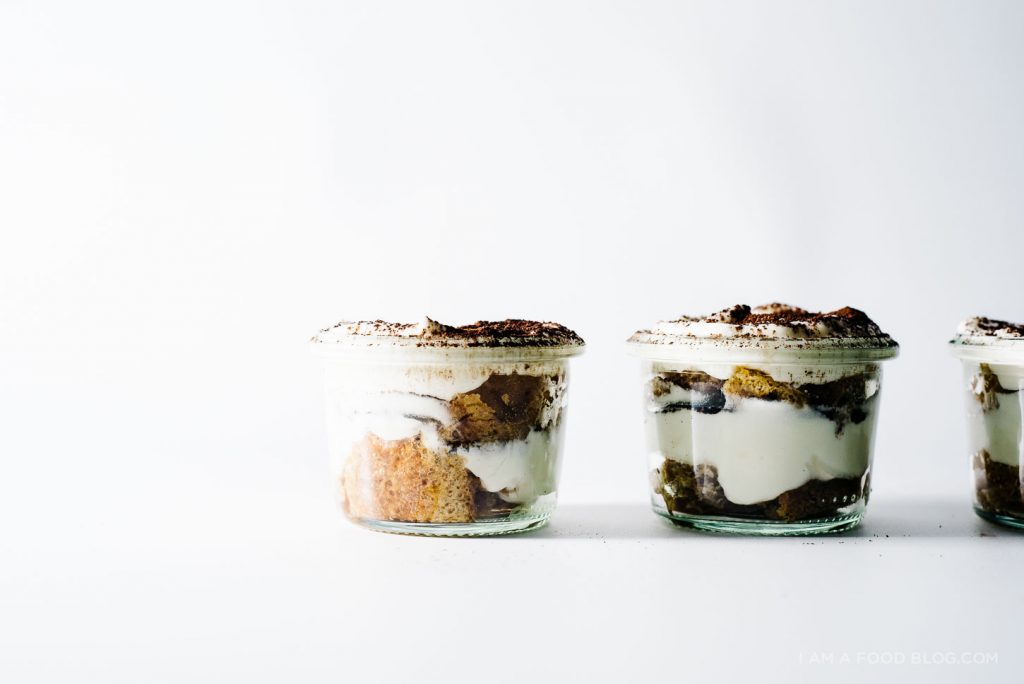 Beeramisu
By iamafoodblog
Ingredients
1/4 cup mascarpone, softened
3 tablespoons sugar
3 tablespoons heavy whipping cream
1/2 cup stout
9 ladyfingers
cocoa, to garnish
(Author) ' Traditional tiramisu is a rich dish loaded with all sorts of flavor and textures. The addition of a dark beer here really transforms the dish into something in a whole new class. This dish isn't traditionally served in cups like this, but the addition is very nice and aides the presentation immensely. You need to refrigerate this dish for 12 hours before serving, so it may be a good idea to make in the morning, or the night before.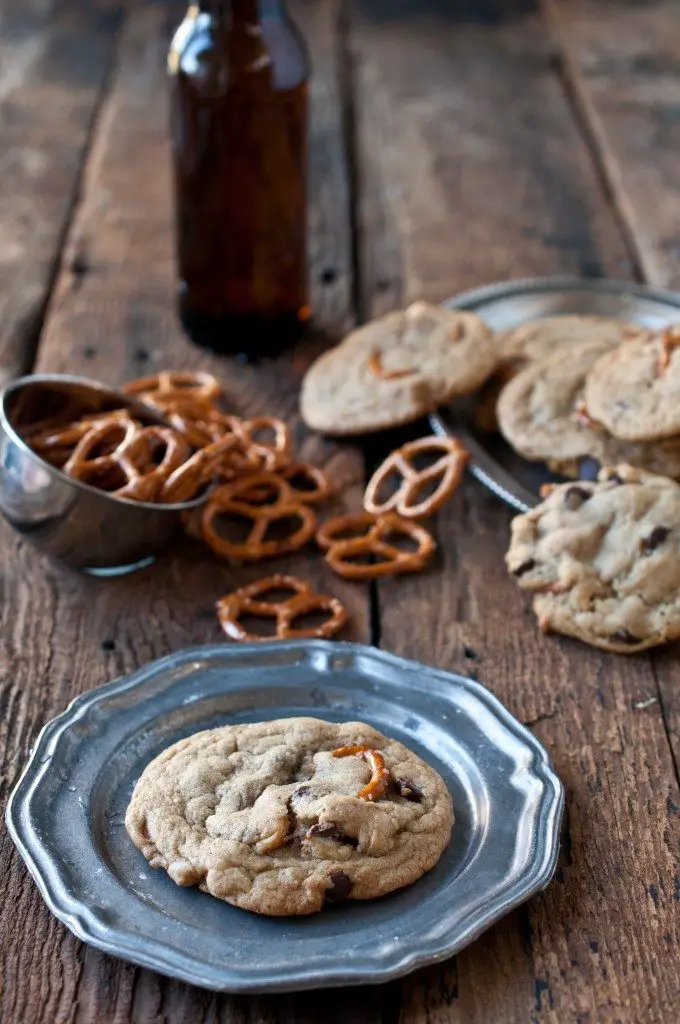 Pub Cookies
By The BeerOness
Ingredients
12 ounces imperial stout or porter beer
3/4 cup butter, cut into cubes
2/3 cup brown sugar
1/2 cup white sugar
1 egg plus 1 yolk
1 tsp vanilla extract
1 cup all purpose flour
3/4 cup bread flour (this will make them chewy)
1 tsp cornstarch
1/2 tsp baking soda
1/4 tsp salt
1 cup dark chocolate chips (60%)
2/3 cup mini pretzel twists, broken into pieces
' cup honey roasted peanuts
(Author) ' Good 'ole fashion chocolate chip cookies are another favorite when I take a stroll down memory lane. Now that I am able to adult though, there is really no good reason not to add a delicious beverage into the mix. What you can really take away from this recipe and adapt to others (such as cake), is the beer syrup. All you need to do is reduce the beer; which essentially means that you simmer it until all of the water is cooked out of it and you are left with the rest of the ingredients that goes into a beer.'Cooking with beer isn't always about getting the entire beer flavor to protrude through the meal.
While you may lose the traditional flavor' you'll retain the malty sense, as well as all the spices and flavors that go into it.
Average rating:
0 reviews