The building at 120 North LaSalle is a fascinating structure to look at from any angle. Down the street from the Bilandic Building, the faade consists of two shades of granite, forming horizontal stripes. Three projecting rectangular grids surround the structure: one over the entrance, one emerging from the faade, and one over the side alleyway. Each grid is oriented a long a different dimensional plane. Contrasting the rigid lines of the grids are four quarter-arcs: on the roof, on top of the elevator shaft, projecting from the main faade, and the mosaic wall over the entrance. The mosaic was created by Roger Brown, The Flight of Daedalus and Icarus.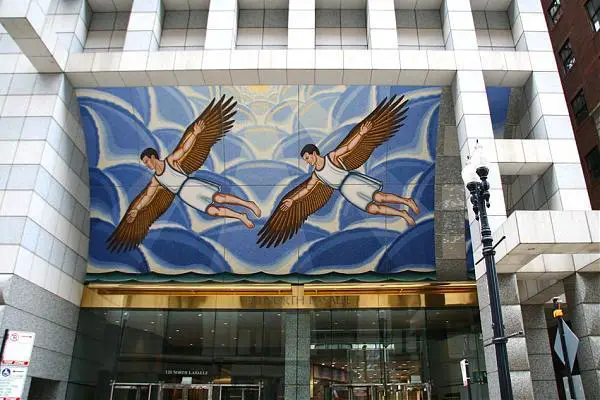 120 N LaSalle St
Public trans: Bus # 11, 20, X20, 22, 24, 56, 134, 135, 136, 156
Blue/Brown/Purple/Pink/Orange Line train (Washington)
Leave a Review!
Average rating:
0 reviews