Bristol Renaissance Faire
Hear ye! Hear ye! Come one! Come all to the Bristol Renaissance Faire beginning this Saturday, July 7, in Kenosha, Wisconsin. This massive Faire recreates the visit of Queen Elizabeth to the city of Bristol in the year 1574. Jousting matches, roasted turkey legs, beer vendors, carnival rides, plays, costumed musicians, shopping, jugglers, jesters, stilt walkers, a costume contest, and a 100-foot replica of a 16th Century ship are all spread across more than 30 acres of wooded land.
Right on the Wisconsin-Illinois border, just one hour north of Chicago, the Bristol Renaissance Faire is one of the most popular summer attractions in the Midwest, drawing hundreds of thousands of visitors. This year, the Faire celebrates a Feaste of Fooles, where the rule is Misrule. Fooles, Jesters, and Harlequins run amok through the 'streets' of the Faire. The centerpiece of the Feaste of Fooles happens at 1:00 p.m. on the Cheshire Chase Action Theatre. Queen Elizabeth, Jane the Phoole, and Robyn Hood put on a Royal Spectacle full of singing, fighting, drumming, dancing, joking, and pie-throwing!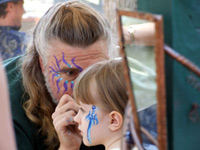 Faire attendees are encouraged to play along. Bristol invites visitors to dress the part, either by making their own costumes or by purchasing or renting clothing right at the Faire. And don't be afraid to address your fellow man with a "Good Morrow!"
The Faire runs every weekend through Labor Day (September 3). Admission is $18.95 for adults, $9.50 for children 5-12, free for children 4 and under. Students with ID and seniors (55+) receive discounted tickets for $16.95. (Advance tickets are available at a discount.)
Photo credit: (c/o Flickr) cristina101, greeneyesmilw
Bristol Renaissance Faire ($$): 12550 120th Ave (Kenosha, WI); 847-395-7773
Sat - Sun (July 7 - Sept 3): 10:00 a.m. - 7:00 p.m.
http://www.renfair.com/bristol/
Tags: 16th-century, beer, chicago, children, costumes, educational, Entertainment, Events, fairs, family-oriented, festivals, hobbies, kenosha, kids, labor-day, live-music, renaissance, renaissance-fair, Shopping, theatre, wisconsin
Related Stories
POSTED IN: Art, Collectibles and Hobbies, Entertainment, Events, Shopping