Division Street in Wicker Park is rich in bar food, but if you just want a quick bite on your way home from work your options are pretty limited and pretty greasy. Thankfully, there's MAK: Modern Asian Kitchen. MAK is a fast casual, counter-service restaurant specializing in healthy Asian fusion made with locally-sourced vegetables and naturally-raised meat. They serve food that's very hip today, though not ignorant of its roots. Founder Tommy Wang, who's a partner in the nearby Evil Olive, grew up around his parent's restaurant, Tien Tsin, which closed in 1998. MAK incorporates many of his father's recipes, updated with health and conservation in mind.
Fast Food & Alcohol is a Wonderful Thing
Just because you want a quick bite to eat, doesn't mean you have to skip an after work drink. Besides fountain drinks and bottled teas, MAK carries a few different Asian beers including Hitachino Nest Beer, an incredible Japanese brewery with roots dating back to 1823.
What's even more fun is they have a couple of bottled sakes in their fridge. The Zipang sparkling sake comes in a metallic bottle and tastes like a mix of light beer and sparkling wine. I'd recommend this one for beginners, while sake fans should go for the Cap-Ace that comes in a small green plastic bottle. You get the fun novelty of a plastic sake cup that pops off the top and a tasty, strong beverage.
Food Menu
MAK's food menu largely follows a Chipotle-style model where you choose either a wrap or bowl, then pick your rice, spice level, meat/tofu/falafel, and a vegetable side. Everything is prepared in the kitchen, you're not going through an assembly line of food that's been sitting around, and you get it five minutes later.
Rice Bowls and Sides
In my case, that was the General MAK Shrimp served over a plentiful bowl of brown rice, mushrooms, and onions. The lightly breaded and tender shrimp—or chicken if you prefer—comes with a tangy, slightly hot, glaze with a sweet, but not overly so, orange flavor. It's much better than what you'd find at Panda Express.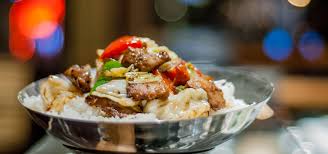 Bowls range from around the $9 to $12 mark and come heaped with food—for a dish made with healthy ingredients, it's a steal. I had enough left to take home for another meal. My companion tried a beef bowl, which he said was rich in flavor, had a great texture, and had just the right amount of juiciness.
We also tried two more sides: crisp cucumbers and a very spicy cabbage slaw that will appeal to kimchi fans while probably making most other people cry from the heat.
Soup, Salads, and Things
One bowl may be more than enough for some, but MAK does also have soups, salads, and appetizers great for sharing. I started off with the MAK salad that's loaded with veggies from petite lettuce to pickled daikan. Full of flavors with a satisfying crunchiness and light vinaigrette, this salad is going to give you a lot of energy.
If a salad isn't your thing, but you still want to start off with something a little healthy, try the veggie falafel (also available on the rice bowls and wraps). These falafel are made with the traditional chickpeas and a little bit of an Asian influence in the form of edamame. They're fried till crispy, but still soft inside, and mine was glazed in a slightly spicy, BBQ-esque sauce.
The falafel is a good substitute for MAK's chicken wings, but if you don't have any dietary restrictions: go for it! These tender wings are fried just enough with little grease and come glazed in a sweet sauce that offers just a little kick. Being used to wings just slathered in sauce and tossed in a basket, the pristine presentation was certainly a highlight.
Donuts
If you've still got room, MAK serves donuts for $1 each or $5 for 6. These are small, fried "donut holes" that are similar to beignets without the powdered sugar. Instead, you're given the choice of a sweet black sesame seasoning or a slightly savory 5-Spice donut. The seasoning is definitely not what you're going to find at Dunkin Donuts, so I'd recommend trying both and seeing which you prefer.
Bottom Line
MAK disproves the idea that Americanized Chinese food has to be heavy and greasy in order to taste good, or that fast food has to be bad for you. At Wicker Park's Modern Asian Kitchen, you'll find traditional and Asian fusion food served quickly and healthfully. And as a nearby Ukrainian Village resident, I can easily say this is the best fast casual food on Division Ave.
MAK: Modern Asian Kitchen
1924 W Division St, Chicago, IL 60622
(773) 772-6251
Average rating:
0 reviews