The time is upon us once again! It is bittersweet. One of the biggest games of the season, accompanied by copious amounts of food, alcohol and people screaming while wearing ridiculous colored jerseys. I.love.it. Chicago Super Bowl festivities take over the city we happen to love our sports, even if the Bears didn't make it… whatever.
Whether you decide to go out and party, or throw your own bash at home we have some solutions for you.
Commonwealth Tavern
2000 W Roscoe Street Chicago, Illinois 60618
(773) 697-7965
Commonwealth is Roscoe Village's friendly neighborhood tavern. They will be serving brunch from 10 a.m. to 2 p.m. with $6 bloody marys and $12 mimosas to help wash it down and put you in the cheering spirit. The TVs are well positioned to make sure that everyone has a good seat in the house.
Additional game day specials will include:
$5 stadium cups
$15 Miller and Coors buckets
$4 Tecate cans
$5 Lagunitas drafts
$10 themed food specials based on the final two teams, created by Chef Donny Farrell.
Reservations are available.
Compass Bar
433 W. Diversey Chicago, IL 60614
(773) 248-3230
Compass Bar is celebrating the Super Bowl in a way that only America would celebrate sports. Three words Chili Frito Pizza ($10). Lincoln Park will be stuffing their face, and dripping chili on their shirt with every goal.
The venue is equipped with 8-TVs with full sound, of course. Compass Bar offers 200 different types of beer, you read that correctly. If you can't find something to drink here, then… nevermind, that isn't possible. Each quarter, Compass Bar will be giving away prizes and they will offer free line cards.
Frontier
1072 North Milwaukee Chicago, IL 60642
(773) 772-4322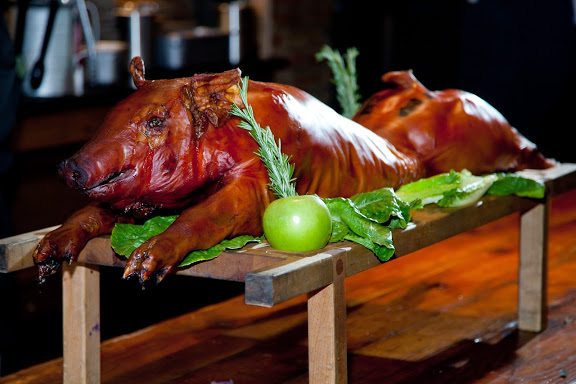 If you are on the fence about going out or staying in, Frontier may persuade you to have your own Super Bowl party. Frontier happens to specialize in smoked meats, and they would be happy to cater your party.
Your order must be submitted by January 30th.
Try to contain yourself here are the options:
Whole Pig ($550)
Boar Shoulder ($90: 5 pounds)
Smoked Pork Loin ($65: 10 pounds, serves 10 to 12)
Porchetta ($325: 40 pounds, serves 20 to 25)
Boneless Stuffed Chicken with crawfish and cornbread stuffing ($35)
Available sides include the following:
Five-Cheese Mac ($35 half pan serves 8; $70 full pan serves 16)
Potato Salad, Sweet Potato Puree and String Beans ($25 half pan serves 8; $50 full pan serves 16)
Lobby Lounge
150 W. Roosevelt Road Chicago, IL 60605
(312) 564-2104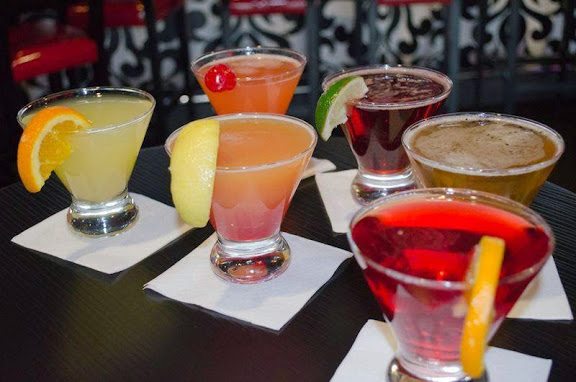 Lobby Lounge is celebrating with no shortage of well-equipped drinks. There are five 50-inch TVs spread throughout the lounge to assure a view from every seat. They will be featuring themed cocktails such as "Tequila My Touchdown" (Sauza Silver, Black Raspberry Schnapps, pineapple) and the "Field Goal" (Malibu, ginger ale, pineapple, blue curacao) for $12 each. Lobby Lounge also serves a good assortment of food including pizza and sandwiches.
Lotties's Pub
1925 W Cortland Chicago, IL 60622
(773) 489-0738
Lotties's Pub was designed for days like this. The venue is equipped with 23 TVs and 2 projectors; plus, they have 23 beers on tap. Anyone at Lottie's can enjoy Jameson's free half-time competition in which you can kick a field goal to win a $250 prize boom!
On top of all that, they have food and drink specials:
$4 Jameson and Jameson Black
$15 Miller and Coors buckets
$15 party platter (14-inch cheese pizza and bucket of wings and tots).
MAK: Modern Asian Kitchen
1924 W. Division Chicago, IL 60622
(773) 772-6251
MAK is offering up a special that is beyond tempting. BOGO wings! This is not just for dine-in, they will deliver their glorious, crispy, sweet yet spicy wangs to your door. What?! This special applies to both small ($5) and large ($9) orders I'll take 40 please, just for myself.
If you decide to opt for delivery or carry-out, you can snag a 10% discount by ordering at
mak.carry-out.com.
Phil Stefani Signature Events
1300 W Hubbard Chicago, IL 60642
(312) 226-7611
Phil Stefani wants you to have the most extravagant Chicago Super Bowl party or at least the best tasting one. Signature Events is more than happy to provide you with everything that you need to feast all you need to do is fluff the pillows on the couch and push the dirt under the rug.
The menu, created by Executive Chef Justin Frankenberg, includes a selection of gourmet burgers, sandwiches, wraps, hot dogs, brats, sausages, chili, pizza, dips and wings. Customers can choose from pre-selected options or customize their own.
Orders must be placed by Friday, January 30 at 12 p.m. by calling 312. 226.7611 or emailing [email protected].
The Pony
1638 West Belmont Chicago, IL 60657
(773) 828-5055
You won't have to pony up much to celebrate fully at The Pony. Food and drink specials will be going on throughout the entire game. There are plenty of overhead TVs to view the game, and some tables are equipped with their own personal TV for viewing now that's service. There will also be a Jameson's free half-time competition in which guests can kick a field goal to win a $250 prize.
$4 Jameson and Jameson Black
$15 Miller and Coors buckets
$15 Punxsutawney party platter featuring a 16-inch Clydesdale grilled cheese, wings and tots.
The Stretch Bar & Grill
3485 N. Clark Street Chicago, IL 60657
(773) 755-3980
The Stretch Bar & Grill is not only showing appreciation for the Super Bowl, but for all industry employees. With proof of employment, you will receive a 50% discount! Discount on what you may be wondering? Patience, I'm getting there. Eat your heart out, and stay hydrated (doesn't beer dehydrate? Whatever…) all while watching the game on 1 of the 15 TVs throughout the bar.
$5 Coors Light stadium cups
$5 Super Bowl bombs
$15 Miller and Coors buckets.
$20 per person House Party Buffet, which includes all-you-can-eat wings, nachos, guacamole, chips and dip
(They had me at all-you-can-eat wings.)
Tavern On Little Fort
4128 North Lincoln Avenue Chicago, IL 60618
(773) 360-1869
Tavern On Little Fort Chicago beer selectionTavern On Little Fort is calling out all of the self-proclaimed 5* chefs. Beginning at 3 p.m. they will be kicking-off their Chili Cook-off! Judging will begin around half-time. There is fun for everyone, not just chefs. Entrants are require to bring in a crock-pot of their prized chili. The judges are made up of the patrons it's only fair! $10 will turn you into a judge, where you can enjoy chili samples, wings, sausage, dips, chips, and veggies.
Drink specials will include:
$3 domestic bottles (Bud, Bud Light, Miller Lite, High Life, Coors Banquet, Coors Light)
$5 microbrew drafts
$4 well drinks
$4 Fireball shots.
Chicago Super Bowl Recovery
IVme Hydration Clinic of Chicago
1347 N. Wells St. Chicago, IL 60610 16 N Peoria Street Chicago, IL 60607
(312) 350-1822 -(312) 350-1822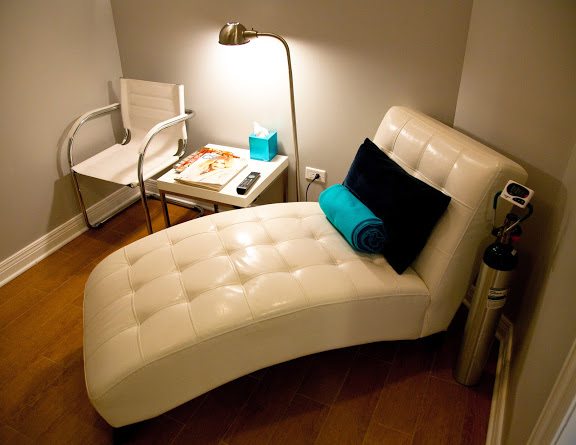 IVme Hydration Clinic of ChicagoIVme can cure that hangover with ease. Combat the dehydration with a simple IV to make it so you can celebrate the Super Bowl one more time via Sports Center (or get to work). These specials run both Super Bowl Sunday and Monday.
Super B-owl Shot, $30 Super dose of Vitamin B plus metabolism-increasing amino acids.
Hangover IV, $99 (normally $119) The Hangover IV is used to alleviate the effects of dehydration from over indulgence like head and body aches, nausea and the general toxic feeling. Fluids, medications (Zofran for anti-nausea, Toradol for body aches), vitamins, and oxygen therapy can help patients get back on their feet.
Wellness and Vitality, $139 (normally $169) The Wellness and Vitality package promotes well-being via hydration and high dose vitamins and includes a Super B Shot and oxygen therapy. This package gives patients a boost to get through a long workweek or to revitalize from the stresses of everyday life.